(web ads above removed with paid membership. Click here for advertisement rates)


Click here to subscribe to the Blackjack Insider e-newsletter. FREE blackjack advice, sent by e-mail bi-monthly. We never distribute or sell your e-mail address (see our Privacy Policy). The Blackjack Insider is supported by our sponsors, advertisers, and paid-subscribers.
A WORD FROM HENRY
I regret to inform you that BJI contributing writer Ralph Stricker passed away. I knew Ralph since my playing days in Atlantic City some 34 years ago. I was delighted when he agreed to write for the BJI, and his first article appeared in the March 2009 issue (#110). Even though his health was declining, he continued to pen dozens of articles for us over the past three years. He was a blackjack legend who will be missed. Rest in peace my friend.
On a happier note, I'm please to announce that Nathaniel Tilton will be contributing his expertise to the BJI. Tilton's new book, The Blackjack Life, details how he and a friend used a successful mix of camouflage techniques in their small team play to beat the casinos. I've read The Blackjack Life and it's an excellent book that describes in narrative Tilton's playing sessions in different casinos across the USA, as well as explain ("how to") the playing and betting methodologies they used to gain the edge, while staying under the casino radar. You will thoroughly enjoy his book (and you might pick up a few tidbits of strategy that will help your game). I highly recommend it. (See our POM below.)
I'm also pleased to announce an alliance with Casino Player (CP) magazine in which BJI subscribers can get a 12-month subscription for only $21. Many of you probably know that I write a blackjack column in CP each month. In addition, BJI contributing writers Frank Scoblete, Basil Nestor, Jerry "Stickman" Stich, Kevin Blackwood, and John Grochowski also write for Casino Player. It's a great lifestyle magazine, that will keep you current with everything that is going on in the world of casino gambling, and you'll read some great gambling tips from the best casino writers in the business. Click here to subscribe at this special rate.
The big news this month is from Atlantic City where the Golden Nugget casino lost 1.5 millions dollars to a group of baccarat players and then sued them! Frank Scoblete has the details in his Atlantic City report (the reason GN sued is unbelievable). Nathaniel Tilton describes the mix of camouflage techniques that he (and his partner) used to confuse the pit critters and afford them longer playing sessions. Vinny DeCarlo continues his series on casino cheats, this time with a story of a baccarat dealer at the old Dunes casino who thought he was being protected but DeCarlo thought otherwise. JPB hit the Tunica casinos, and even though he had good playing conditions, he had his worst session ever (variance, variance ... all card counters need to read this article). KC Brooks reports on the playing conditions at the Mirage and TI (Treasure Island) casinos, while Frank Scoblete and his team do the same for the casinos in Atlantic City. Basil Nestor summarizes five dumb moves that even experienced basic strategy players often make. If you want to learn the ins-and-outs of Blackjack Switch, check out my article in this issue. John Grochowski answers reader's question about several versions of Double Double video poker games, being barred using a progressive betting system at blackjack, and a bet (other than the odds bet) that had no house advantage. Frank Kneeland writes an interesting article about the beginning era of video poker in casinos, including the lack of any software to do the math (must reading if you are a video poker buff). Last, but not least, we have the schedule of upcoming blackjack tournaments courtesy of blackjacktournaments.com.
PRODUCT OF THE MONTH
| | |
| --- | --- |
| | New blackjack book by BJI contributing writer Nathaniel Tilton, available at a 10% discount! The Blackjack Life by Nathaniel Tilton is the story about a regular guy with a regular job who read Bringing Down the House (MIT team story), and decided to do what the players in that book did. The book relates the story of Tilton's personal five-year journey through the inner world of card counting and his clandestine pursuit of beating the casinos. Only $14.35 plus shipping... 10% of the retail price. Click here to order. |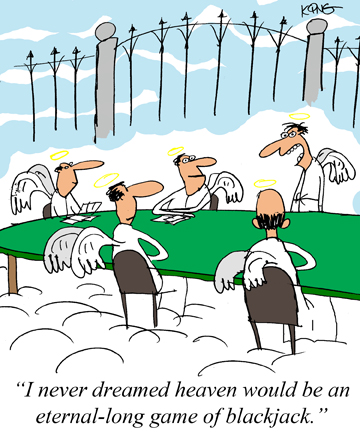 Copyright ©2012, Jerry King, www.jerryking.com. All rights reserved.
In the Article Spotlight
From the Inside by The Suit
The Spotlight article this month appeared in issue #60 of BJI. The Suit, a former casino floor supervisor and shift manager, offers tips to advantage players on how they should act the first time they visit a new casino. Click here to read the article.
Henry Tamburin
Editor
If you come across an unfamiliar blackjack term in one of our articles or reports, see our Blackjack Glossary: www.bjinsider.com/questions_glossary.shtml.
Did you know we have all past newsletter issues available in our archives, with online search?
BJI Archives:
www.bjinsider.com/newsletter.shtml#back_issues
BJI Search:
www.bjinsider.com/newsletter.shtml#search
E-mail subscribers can also read each month's issue online at our web site: BJI Issue #152, September 2012.
---
Blackjack Counter+Expert
for Android and iPhone

Contains all features from Mentor, Counter and Expert
in one App for Android and iPhone!
Play Blackjack with advanced casino options AND learn to count cards at the same time! Blackjack Expert teaches you card counting techniques while playing against the computer, or using one its many training modes. This is a professional blackjack training package, containing everything you need to go from beginner to seasoned card counting expert.
Blackjack Expert is a game simulator and testing tool combined in one easy-to-use program. As you play blackjack, your decisions are tested: actions, index plays, bet sizes, and insurance. The software is packed with advanced features for mastering every aspect of Blackjack card counting. Whether you're just looking for a great Blackjack game or looking to learn card counting techniques, Blackjack Expert is the fastest way to improve your game. Card Counting can give you a statistical edge over the casino.
Blackjack Expert contains all of the powerful blackjack training features and drills our users have come to enjoy and expect in our products. The user interface has been greatly enhanced and simplified to leverage the great features of the Android and iPhone, making mastering card counting strategies on the go even easier!
The complete Speed Count system is included with the base application. Or, purchase the complete HighLow count system and others as In-App purchase right inside the software (Add-ons mode), installed immediately into the program.
The new Rules mode lets you select the game rules and count system, and a matching action table and index set are selected automatically.
Create and edit your own count systems from Rules mode. All the powerful high-end features you've come expect from our products are available for Android and iPhone.
144 built-in basic strategy tables for non card counters, selected automatically as you change the rules.
Extensive, context-sensitive help built right into the application. Supplementary documentation on card counting will help novices learn what it is all about. No need to purchase anything else to master card counting!
Simplified settings for Count mode to configure deck counting drills, while all options are still available for advanced users.


Also available... Blackjack Mentor for Android and Blackjack Mentor for iPhone.
What our customers say...
"This is a great TEACHING progam not a game, learn Basic strategy, counting, different count systems, rules. As they say 'Its all in there'."
"This app is perfect. There's no other app like it."
"An excellent app to improve play. Absolutely no glitches!"
"Glad to see this program on the Droid Platform. Works great!"


Also available for Windows
---
How to Win EVEN MORE
Blackjack Tournaments
Volume II

by BJI author Kenneth R. Smith

No question about it ... Ken Smith really knows blackjack tournament strategy!
And YOU can learn it too from his new e-book!
Ken Smith's second e-book on tournament blackjack contains more of his winning strategies that have made him one of the best tournament blackjack players in the world. If you've watched any televised blackjack tournaments, or watched (or played against) Ken in a live tournament, you've seen his amazing tournament skills (including his stunning $50,000 first place finish in the premier episode of the Ultimate Blackjack Tournament on CBS.)
His new e-book contains more of Ken's tournament playing and betting strategies that were published in his columns in the Blackjack Insider Newsletter (BJI), plus several new strategies, not previously published in the BJI (all articles are now only available in this e-book). You will learn more tips and tricks that have made Ken the best and most feared tournament player.
How to Win Even More Blackjack Tournaments - Volume II contains five sections:
History of Blackjack Tournaments
Tournament Basics
Tournament Strategies
Advanced Strategies
Alternate Tournament Formats
Some of the topics covered in the book include:
Blackjack Tournaments 101 guide for beginners
How and where Ken first started playing tournaments
Tips on how to bet as the tournament round progresses
How to play against unskilled players
How to size up your opponents
"Bottom of the Ninth" final hand strategies (NEW)
Tips on "chip counting"
Importance of reading the tournament rules
When you should hit your stiff hand
Knowing how to "climb the ladder" for success
Aggressive double down strategies (NEW)
How to play the most dangerous tournament hand
Revisiting the "mythical 12 percent rule"
Strategies for accumulation and no limit tournaments
Learning from a double playoff disaster (NEW)
To read the first 16 pages of the professionally produced e-book, click below:
Sample pages and Table of Contents from
How To Win EVEN MORE Blackjack Tournaments - Volume II
Whether you are a tournament novice or an experienced player, Ken's latest collection of strategies will give you more powerful insights that can elevate your game to the next level.
"My worst nightmare is to have Ken Smith on my table in a blackjack tournament. My next worst nightmare is to be playing against opponents who have read Ken's e-books."... Henry Tamburin
How to Win Even More Blackjack Tournaments - Volume II is 131 pages with a full cross-referenced index. Once you place your order in our secure store, you can immediately download the e-book to your computer where you can read it, save it, or print a copy (either using your printer or at a local print store such as Kinko's). The e-book is only available in Adobe Acrobat format from our BJI store, and can be read with the free PDF viewer software, available by clicking here.
Also available...
Ken's two e-books in one bundle!

How to Win
Blackjack Tournaments
Volumes I and II
---


---
"My friend and I did everything in our power to master the science of the game, while learning through trial and error how to perfect the art of it, as well. In doing so, we explored every avenue we could, from books to software to newsletters, like the one you're reading..."
Read Tilton's complete article.
"This story is about Ron the Rascal, a baccarat dealer at the old Dunes casino in Las Vegas, who thought his cheating was "under the casino radar." Not according to Vinny DeCarlo, who was present at Ron's trial to present the evidence. Read what happened..."
Read DeCarlo's complete article.

"For the first time in about two years, I had the opportunity to travel to Memphis and was able to make the short drive south to Tunica. Unfortunately, my Tunica trip turned into my second worst blackjack trip of my 15-plus years of playing blackjack as an advantage player. Here's what happened..."

Read JPB's complete article.

"The Mirage uses a facial recognition system and computers to evaluate player ability. With that said, vary the size of your bet off the top of a shuffled deck and keep your playing sessions short, and you should be able to stay under the radar..."

Read Brook's complete article.

"Read the incredible story about how Atlantic City's Golden Nugget casino got creamed at the baccarat table (you won't believe how it happened) and then sued the players (who were not cheating)..."

Read Scobletes' complete article.

"After a bettor learns basic strategy and the rules of the game, if he sincerely follows them, then it's all improvement from there, right? Sadly, no. Experienced players make some of the dumbest moves. Here are the five worst..."

Read Nestor's complete article.

"A new blackjack game is growing in popularity amongst players because it legally allows you to switch your cards between two hands. The game is appropriately called Blackjack Switch. Here are the basics..."

Read Tamburin's complete article.

"John answers reader's question about several versions of Double Double video poker games, being barred using a progressive betting system at blackjack, and a bet (other than the odds bet) that had no house advantage..."

Read Grochowski's complete article.

"The title of this month's article is far more than a metaphor or simple saying. Our topic is video poker-related software, and not only do they not make 'em like they used to, they did not, in fact, make 'em at all..."

Read Kneeland's complete article.

"Check out the schedule of major blackjack tournaments in September and October by region in our Blackjack Tournament Report courtesy of blackjacktournaments.com..."
©2015, DeepNet Technologies. No material to be copied without express permission of DeepNet Technologies.
This site developed by DeepNet Technologies, Ontario, Canada. Contact webmaster @ bjinsider . com if you have problems.
This site is best viewed in a 800x600 graphics mode, or higher.