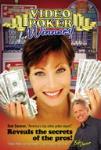 Video Poker for Winners - software
This video poker software was developed by video poker expert Bob Dancer and game developer Action Gaming. You can use the program to play video poker as a game, practice your playing strategies (software alerts you when you make a playing mistake), create and print penalty-free strategies, calculate bankroll requirements, figure slot club paybacks, compute expected value, and much more. Program contains a video introduction by Bob Dancer and comprehensive help. Program contains all the popular single line video poker games plus multi-line games, Spin Poker, Super Times Pay, Multi Strike and more. The easiest way to master video poker. Supplied as CD.
Click here to order... only $42.45, plus shipping. Computer requirements: Pentium 1.6+ GHz or equivalent, Windows XP or better, 512 MB RAM, 150MB hard disk space, CDROM Drive.