(web ads above removed with paid membership. Click here for advertisement rates)
2017 BLACKJACK BALL- Part 2
By Henry Tamburin
Henry Tamburin is the author of the "Ultimate
Blackjack
Strategy Guide" editor of the Blackjack Insider Newsletter, and host of
www.smartgaming.com
.
Note: This is the second part of a two-part article on 2017 Blackjack Ball. Part 1 appeared in March issue of BJI.
Picking up where I left off last month, as promised, you will find below the questions and the answers to the challenging 21-question test given to the attendees at the Blackjack Ball. Give yourself one point for each correct answer. (If you got 16 or more correct, you did better than all the blackjack pros that took the test.) I'll also reveal who got the most votes and was inducted into the Blackjack Hall of Fame.
Out of a possible 21 correct answers, the players with the most correct answers were:
Blackjack Hall of Famer John Chang had15 correct answers
David Spence had 13 correct answers
Anthony Curtis had 12 correct
Loco had 12 correct, and
Andy Bloch also had 12 correct
The above five contestants advanced to the skills part of the competition conducted on a blackjack table (with Max dealing the cards). Here is what the skills part of the competition entailed.
In Round #1, Max placed a shuffled deck of cards in front of each contestant and randomly removed one card from each deck. Each contestant had to state what counting system he was going to use to count down his deck of 51 cards. Four of the contestants used Hi Lo, where the tags of the cards are +1 (2 through 6), zero (7, 8, and 9), and -1 (10, J, Q, K, A); Anthony Curtis used the Uston Advanced Point Count system, a multi-level counting system where 2 and 8 is +1; 3, 4, 6, and 7 is +2; 5 is +3; 8 is -1; tens are -3; and aces are zero). When Max gave the signal to start counting, the players rapidly started their count down and when they were done, they slammed their deck on the table. The player who was the slowest at counting down his deck had to state what the lone card was that Max removed from his deck First player who incorrectly stated his card was eliminated (or if they all got it right, the slowest player was eliminated.) The order from fastest counter to slowest was: John Chang, Anthony Curtis, David Spence, Andy Bloch, and Loco. All the players correctly identified their missing cards; therefore, Loco was eliminated.
In Round #2, the remaining four contestants were given 10 seconds to estimate a stack of cards that Max had placed in a discard tray, and then write their estimate on a piece of paper. The number of cards in the stack was 135. Anthony Curtis estimated 136; David Spence 131; and John Chang and Andy Block both estimated 124. Max then held a tie-breaker between Chang and Bloch. He allowed them to examine a well-shuffled single deck of cards for about 15-20 seconds. Max then lightly riffled the deck once and then allowed then to place the cut card such that the player who cuts to the highest-value card would win. Chang cut to a deuce, Bloch to a ten, and Chang was eliminated.
In Round #3, the three remaining contestants had 10 seconds to cut exactly 22 cards from the bottom of a single-deck of cards. Anthony Curtis missed by one card; David Spence by two cards, and Andy by three cards and was eliminated.
Two players were left: Anthony Curtis and the relative newcomer David Spence. The last round was similar to Round #1 except Max used a double-deck of cards. Max removed one card from Curtis' stack of cards and another from Spence's stack. When Max stated "start" each player had to rapidly count down the stack of cards and then slam their decks on the table indicated they were done counting and then state what the missing card was (low, neutral, and high). Ironically, both players slammed their cards down almost at the same time. It was too close for Max to call as to who was fasted so he asked the crowd of pros who were watching the contestants for their input. The consensus was that David was a split second faster than Anthony. However, the rules for this Round was such that if the fastest counter counter got the missing card in his stank correct, he would be declared the winner; however, if he got it wrong, the other contestant would automatically win. The pressure, therefore, was on David to make the right call. Unfortunately he David he miscounted. He said the missing card was a neutral card (7, 8 or 9 by Hi Lo, which he was using) but it turned out to be a low-value card. Max declared Anthony Curtis the winner of "The World's Great Blackjack Player" contest. (Note: Anthony didn't have to state what his missing card was but he did so anyway (low card) and got it right.)
Hall of Fame Voting
As I mentioned last month, Don Johnson received the most votes and was inducted into the Blackjack Hall of Fame. Johnson gave a speech to the attendees, and he graciously forwarded a copy, which is reproduced below.
Thank you so very much for voting me into the Blackjack Hall of Fame! What an honor to be joining some of the brightest minds to have ever played the game.
Bill Benter, who was inducted into the HOF last year, acknowledged some of the brilliant and at times famous players who came before us-those who have written books to help pave a path that might educate others like me to make beating the house more possible. Some of those who have written books are in this room tonight; well done gentlemen. It is only through education and discipline that any of us can expect success in the game of blackjack, not to mention the game of life. Like life, "Blackjack," will test you as a person. It will test your mind, your character, your endurance, and your personal limits. It will take you from the physical to the metaphysical and back again. You have to love the game of "blackjack" to endure the test of time it takes to master it. I love the game of blackjack, what it has taught me, and what it has given me in life.
The friendships that became a brotherhood and sisterhood along with the memories are what we live for. As we get older, memories are what we hold dearest. Good and bad memories; we cherish them all because you blink and a decade disappears.
I had much more written for this speech but I think for this one time in my life I will let brevity be my friend.
To close, I would like to offer some advice for the younger guys and gals who wish to use their talents to beat the game of blackjack. If you hone those skills and become an advantage player and you wish to continue doing so? Trust me on this one: Do Not Film a Documentary on how you beat the casinos. They will cut you off!
Oh, one last thing - It's a good thing I was voted in this year's Ball because the champagne sponsor jumped ahead of themselves and it was going to be awfully embarrassing when Max used a Black Magic Marker to cross my name off this bottle. LOL.
Again, thank you.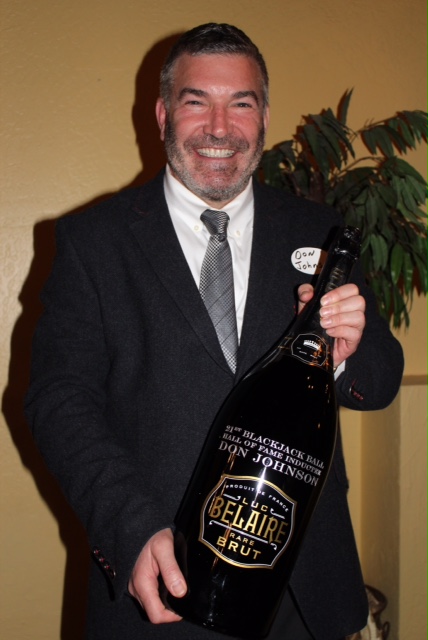 *************************************
Editor's Note: What follows is the rest of Don's prepared speech, which as he mentioned above, he didn't give for brevity. Nevertheless, I thought you would find it interesting what he had planned to say.
For more than 30 years of playing BJ, I am still a mortal student. I have been dubbed a savant and brilliant mathematician by the casinos. LOL I have to chuckle because those who have worked with me on projects know different. I understand the mathematical logic, but I am not at the same level of brilliance as the math professionals I've had the privilege of working with. Some have said luck played a big part in my success, and they would be correct. I met the right math professionals at the right time, which changed the way I look at the game. Some of those math professionals are in this very room tonight. It is true that there was an element of luck in meeting the right people at the right time, people who solved the more difficult math puzzles I did not have to do on my own. But this luck was also coupled with an education and an appreciation for the game. Through working with them, I learned the value of trusting the math and following the plan, especially since there will always be times when you reach your mind's limits because the house just pulled a six card 21 against your 20. This is when the discipline kicks in. This is why having the right team to fall back on is so important.
We called it the tour because we traveled the world beating the casinos and sports lotto's, and the lifestyle we led caught the attention of the press in much the same way that rock stars on tour attract publicity. And yet, despite the appearance that we were doing nothing but celebrating victory after victory, the truth is that more than channeling rock stars, we were negotiating an edge on the casino floor in much the same way that traders do business on Wall Street. You see, in reality, the casino floor is nothing more than a trading floor. Every game has rules that if played according to the casino's strictest conditions will lend a small house advantage. If you negotiate small changes to those rules and alter your style of play, overcoming that small house edge can be achieved. We did just that; we "Beat the House" until the casinos finally cut us off and brought "The Tour" to an end. Some of the outlandish stories you may have heard about what we got away with and how far we took things to ridiculous levels of one-upmanship? Most likely all true, and we had a lot of fun doing it.
I have been asked if given the opportunity to continue "The Tour" would I do it the same way? My answer is YES! Exactly the same way. The friends that became a brotherhood & sisterhood along with the memories are what we live for. As we get older, memories are what we hold dearest. Good and bad memories we cherish them all because you blink and a decade of time disappears.
Thank you so much, I am truly honored.
Blackjack Ball 2017
Test Questions
As always, to prevent advantage play, as you fill out your game card, you must mark every true or false question or multiple choice question and fill in the blank before we move on to the next question and they must be marked with Black Ink. You cannot change your answer once you have marked your card. If there are any blanks or changed answers on your card then when it is graded or handed in, you will be disqualified. It's happened before and it wasn't pretty, was it Hollywood Dave?
Please write your name on your card now to make sure that your pens are working. If they aren't, hold up your hand and we'll bring you another one.
Also, anyone who looks at their cell phones for any reason, other than to take an emergency call, in which case we will all wait until that emergency has been dealt with, will also be disqualified from play. You are allowed to use the back of your playing card to calculate your answers,
BUT NOT THE CALCULATORS ON YOUR PHONES!
************************
Blackjack Ball 2017
Round One Questions and Answers...
...enter your member login information below to read this article/newsletter...
Paid Members-Only Article
You have clicked on a link to a Blackjack Insider web page or article for paid subscribers. You must have a paid membership to the Blackjack Insider newsletter to view this content. About 1/2 of the articles in each issue of the Blackjack Insider are for paid members only, while the rest are viewable by everyone. Your purchased membership will allow you to read all Blackjack Insider articles for 12 months.
Enter your user name and password below (they were listed and e-mailed to you after you purchased your Blackjack Insider membership):
Forgot your membership id or password? Click here.
How do I get a membership?
A membership can be purchased online at our secure store with your credit card for only $19.95 per year. You will receive a user name and password immediately by e-mail which you can use to read the all past and future members-only articles for 12 months, as well as the regular free articles.
Do I have to buy a membership?
No. Blackjack Insider will continue to be published as a free monthly e-newsletter. But about 1/2 of the articles each month will be for paid members only. Subscribers without a membership can still view and read the non-members articles for free.
What happens after I buy a membership?
Immediately after you complete your purchase, you will receive a unique login user name and password. These are displayed on the final purchase page, and are e-mailed to you. When you click on a members-only article in our web site, you will be prompted for this user name and password (as shown above). Simply enter them, and enjoy the article! Note: make sure you turn on the checkbox above when you login, to save the user name and password so that you don't have to re-enter them every time you view members-only articles.
Why did you switch to paid memberships?
Blackjack Insider is a professional monthly publication with top-notch articles by world-reknown gaming experts. In addition, we have regular reporters that monitor game conditions and tournament schedules throughout North America. We use a partially paid subscriber model to enable us to continue getting the best content for our readers from leading authors on blackjack and gaming.
©2015, DeepNet Technologies. No material to be copied without express permission of DeepNet Technologies.
This site developed by DeepNet Technologies, Ontario, Canada. Contact webmaster @ bjinsider . com if you have problems.
This site is best viewed in a 800x600 graphics mode, or higher.