(web ads above removed with paid membership. Click here for advertisement rates)




2017 BLACKJACK BALL

by Henry Tamburin

Henry Tamburin is the author of the "Ultimate Blackjack Strategy Guide," (

www.888casino.com/blog/blackjack-strategy-guide/), editor of the Blackjack Insider Newsletter, and host of www.smartgaming.com. He regularly attends the Blackjack Ball.

For the 21st consecutive year, Max Rubin hosted the Blackjack Ball at a secret location in Las Vegas. This year 96 invited blackjack professionals from around the world attended the gala that features some of the world's best active and retired blackjack players and legends of the game (as well as a smattering of gambling writers, lawyers, and others who have contributed to the craft, along with select guests that brought the total number of attendees to 112).

This unique group of professionals meets annually to renew old acquaintances, make new ones, exchange playing experiences, and compete for the coveted Grosjean Cup and title as the "World's Greatest Blackjack Player." (The Blackjack Ball Cup was renamed the Grosjean Cup because blackjack pro James Grojean won three times and was banned from competing by Max; however, to recognize Grosjean for being the best of the best three times, the Blackjack Ball Cup was renamed the Grosjean Cup in his honor.)

The list of attendees included some of the greatest blackjack professionals in the world, including Rick Blaine, Andy Bloch, John Chang, Al Francesco, James Grosjean, Tommy Hyland, Don Johnson, Anthony Curtis, Nicholas Colon, Richard Munchkin, Darryl Purpose, Arnold Snyder, and others. Also present were members of several blackjack teams: MIT, Asian Assassins, Washington Solos, Florida Solos, and others. In total, 11 out of 16 living members of the Blackjack Hall of Fame were in attendance. (Also in attendance from the World of Poker was none other than Mr. Phil Ivey.)

You must be invited to attend the Ball, and security is tight because, according to Rubin,

"If a casino person could infiltrate this gathering and secretly take photos, it would make his career." Invited guests were required to bring one bottle of chilled premium champagne to the party to share with their colleagues (preferably a bottle received as a comp from a casino). (This year, Max made it clear in an email he sent to attendees that any guest who arrived without a bottle of chilled premium champagne would be refused admittance; furthermore, guests who brought a low-budget (aka, cheap) bottle of bubbly would be permanently removed from the invited guest list.) Attendees were also required to pay $20 at the door to help "seed" the pot for the evening's Calcutta auction.

The evening's festivities began with hors d'oeuvres and drinks (with plenty of chilled champagne, of course) and music provided by the duet consisting of the lovely Megan Riordan (Max Rubin's talented daughter, who starred in the Dublin musical production Once), and Blackjack Hall of Famer, musician, and singer Darryl Purpose. (They sang the melodious Academy Award winning song, Falling Slowly.)

Dustin Marks, one of the world's greatest casino cheaters who took casino's money from both sides of the tables and never got caught, demonstrated some of his cheating moves while dealing and playing blackjack in the 1980s. (Even in a room full of blackjack pros, his moves were virtually undetectable; his book is Cheating at Blackjack.) Next, the attendees cast their vote for the newest inductee into the Blackjack Hall of Fame from six nominees. (Each attendee got one ballot and could vote for only one nominee, except the ballot of each Blackjack Hall of Fame member counted treble.

Next up on the agenda was a delicious buffet spread with carved prime rib, salmon, and lots more, courtesy of Barona Casino. (They sponsor the Blackjack Ball and in return, the players in attendance agree not to play blackjack in their casino ... pretty smart move on the casino's part because all other casinos are fair game).

Max Rubin does a yeoman's job organizing this event. He spends "more than 100 man hours" on it, which involves tracking down APs to send them an invitation (many APs change their handle and email addresses so this isn't as easy as you think), responding to many emails from players who want to attend (you must be approved by the BJ Ball committee to be on the invited list), putting together the challenging 21 test questions, organizing the seeds for the Calcutta, and as the host of the event, keeping things moving along. Max says the Blackjack Ball is a labor of love; I know I speak for all blackjack players in thanking Max for taking on this task, and for a job well done. (BTW: For health reasons, Max has made it known that this might be his last year organizing and hosting the Blackjack Ball and he is looking for someone to do the bulk of the work for next year's Ball.)

This 21st Annual Blackjack Ball was extraordinary because the guest speaker was Dr. Edward O. Thorp, the author of the 1962 best-selling book Beat the Dealer that launched the card counting careers of virtually every blackjack player in the room (myself included). Each blackjack professional received a comped autographed copy of his latest book

"A Man for All Markets." (The latter is the true story of Thorp's original research to develop a card counting system that worked, how he built the first wearable computer, his work to build a computer to predict the result of a roulette spin, developing a formula for financial options to make money in the stock market, and much more.)

Copy of Thorp's Speech

Thank you, Max, for creating, producing, and directing the annual Blackjack Ball and to your loving wife and the committee for all they have done to make it happen, and to the Barona Casino for subsidizing the event.

This is the 21st Blackjack Ball, a special one for all of us. When I sat down for the first time at a blackjack table way back in 1958, I could never have envisioned that, almost sixty years later, it would lead all of us to this room tonight.

I didn't know anything about casino gambling or much about the mathematics of probability for gambling. A newly minted Ph.D. in math, I was there on a cheap vacation to case roulette wheels, because - by thinking and experiments - I thought I could build a wearable computer to predict the fall of the ball. I was playing blackjack just to get experience betting money in a casino. As it happened, after that 40-minute session, I saw the idea for card counting and the path for beating blackjack as well.

Moving from UCLA to MIT, I worked it out with math and MIT's IBM 704 computer. Despite widespread scorn and disbelief, it worked just as I claimed when I used it in the casinos. I wrote it all up in Beat the Dealer, which became a New York Times best-seller with more than a million copies in print. But to me, the most satisfying payoff from Beat the Dealer was the unexpectedly large number of lives which it influenced. I dropped a pebble in the water and saw the first ripples build into a tidal wave expanding into the future. It is astounding, gratifying, and humbling to think that, ultimately, mathematical curiosity led me to stand here in this room among all of you, you who are part of that tidal wave - so many of the world's top advantage players.

Some of you have lived well for years or even decades using your casino skills. Others have used their blackjack winnings to become centimillionaires or even billionaires on Wall Street or at the racetrack. Each of you has an amazing story to tell. I haven't heard them all but I would like to.

One such story, which I tell in my new book, is about a college senior who read Beat The Dealer way back in 1966, while recovering from a horrible automobile accident. Against his mother's advice, he took $200 to Las Vegas and spent the summer after he graduated running it up to $10,000 on the green and beige tables. Like many others, he used what he learned in the casinos to make his fortune on Wall Street. He eventually managed a 250 billion dollar bankroll and the team he led managed two...trillion...dollars (not a misprint).

You can read this story and others in my new book, A Man For All Markets. Professionals will be getting copies here tonight, courtesy of Random House. It tells my story and I hope you enjoy it as much as I like learning more about all of you.

You are a fantastic group of people.

Needless to say, Dr. Thorp got a standing ovation following his speech. He graciously spent time during the Ball, and at the after-the-ball party (that lasted until 4 am), to personally autograph copies of his new book (and Beat the Dealer for those that brought a copy). As one of many players in the room who got his start at blackjack after reading his book, I will forever be grateful for the contribution he made to the game of blackjack.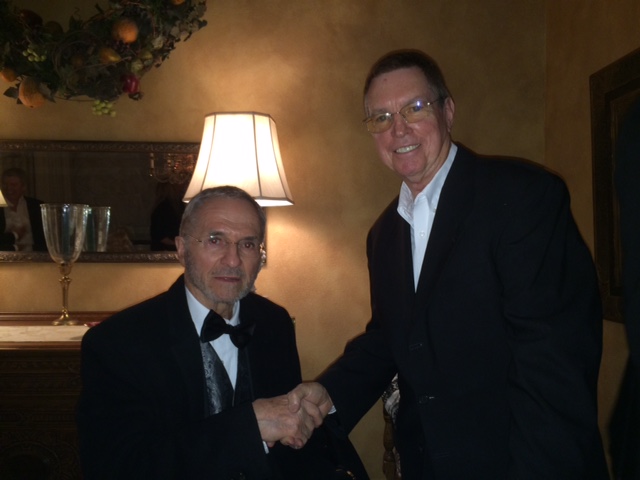 (Thanking Dr. Thorp after he autographed his book for me.)

Blackjack Hall of Fame Nominees

What follows is the process used to choose nominees for induction into the Hall of Fame (written by Max).

"The living members of the Hall of the Fame sent names to me for suggested nominees, and all names were then discussed and voted upon. The six prospective nominees that received the most votes were then placed on the ballot.

Much to their consternation, this process has prevented several well-known but lesser accomplished "one trick ponies" that have written introductory-level books or excelled at running numbers from joining the mix of truly worthy candidates that have achieved the highest levels of success, either on the tables or through their contributions to the craft."

The list of the six nominees this year and a short synopsis of their accomplishments follow. Note: This year all bona fide professional blackjack players at the Ball selected only one name on their ballots (rather than two) out of the following six worthy candidates.

Cat Hulbert

- Cat was selected as one of BBC's 100 Women of 2016 - an honor given to "high profile women from the spheres of entertainment, sport, business and politics." Chosen for being the first woman to break through the glass ceiling of professional blackjack in 1978, she played on the Czechoslovakian blackjack team in over 300 casinos world-wide. Cat's aggressive play and fearlessness changed many opinions on the mathematical and emotional capabilities of women to bet-it-up under pressure.

Selected by Cardplayer Magazine in 1996 as one of the best and smartest card players in the World, she was one of only one of eight professional gamblers to be included in Richard Munchkin's book, Gambling Wizards. Along with teaching a woman's only poker class for many years at the Hollywood Park Casino, Cat also wrote Outplaying the Boys, a humorous book & guide for women published in NYC in 2005 teaching ladies how to become more competitive in life and at the tables

Cat was featured in LA's The Daily Breeze and the Sunday LA Times for her top- notch card playing abilities in blackjack and poker. Also a contestant on Blackjack's Tournament of Champions, Cat has been a guest on numerous radio shows including NPR, Gambling with an Edge, and BBC's The Conversation, often sought out due to her unusual successful life choices and her mission to change how women are viewed - by men and by themselves, alike. On December 7, 2016 the BBC published a biographical article based on her remarkable exploits that received a million reads the first day it appeared on their homepage.

Don Johnson

- Don is without question the most famous blackjack player in the world (which is a pretty fair qualifier for inclusion into the Blackjack Hall of Fame). His exploits grew to epic proportions after he beat three Atlantic City casinos for over $15 million several years ago while pummeling those casinos' loss rebate programs. While luck certainly was a factor in his extraordinary A.C. wins, most in the Blackjack Community aren't aware that Don is an exceptional player in his own right and personally reaped extraordinary profits over a decade ago while executing a variety other Advantage Plays.

Despite Don's fame for beating casinos at their own games, a few casinos under strict conditions still allow him to play to their disadvantage. His amazing ability to charm his way back into the casinos' good graces is nothing short of Legendary. He also manages an extremely successful horse betting syndicate, along with a number of other ventures, which virtually all become successful when exposed to his near-magical golden touch.

Mike Michalek

- Mike was one of the earliest card counters to realize that there were opportunities in Blackjack, beyond straight counting. Credited by many for creating some of the earlier shuffle and ace tracking methods, he was one of the very few AP's that could walk through a casino, see a game or procedure and design unique plays to exploit new opportunities, often "on the spot." When Mike's name comes up among those in the know, the word "creative" often begins that conversation. As the brain behind many successful sports and blackjack projects, many famous Advantage Players relied on the lessons learned from Mike to accumulate massive bankrolls and most all of them attribute money they've made over the years to his influence. Renowned Professional Blackjack Players including Tommy Hyland, Bill Benter, John Chang, Peter Wagner, Richard Dougherty, and many, many more often pay homage to Mike for taking their games to new heights.

Although Mike has been inactive for more than ten years due to serious health issues, some of his more clever Blackjack "Inventions" are still being used by talented AP's across the globe to harvest money from casinos that remain unfamiliar with the unique playing and betting techniques that he created decades ago.

Richard Dougherty

- Richard has long been one of the Blackjack Players casinos fear most....and most often. Casinos have sent out literally hundreds of flyers, flyers, bulletins, and alerts about Richard during his more than three decades as a Blackjack "Road Warrior" and yet he still marches on. Throughout his long, illustrious and (in)famous career, Blackjack has been Richard's virtual only source of income and no matter how many times the casinos back him off, assault him, have him arrested for his legal activities, he never stops his relentless attack on their games.

Not only does Richard refuse to be intimidated by casino and surveillance personnel, he's also "turned the tables" on casinos and extracted hefty scores via profitable lawsuits after suffering through illegal "back roomings" and outright beatings in front of the public on the casino floor on the Las Vegas Strip! As if that weren't enough to put Richard in the casinos' crosshairs, as a fearless and fun-loving casino prankster, he's also pulled off a number of clever and legendary practical jokes that leave everyone (other than the casinos) laughing with glee.

Rob Reitzen

- There are few, if any, players that have won more money in the history of Blackjack than Rob Reitzen. From simple card counting to shuffle tracking/sequencing to bottom steering to advanced computer play, Rob has beaten games in more innovative ways than most professional blackjack players even know to exist.

The founding partner of CORE, which became the largest and most profitable player-banking operation ever, Rob was featured in an Esquire Magazine article in which the reporter followed him and watched him beat Caesars Palace in Las Vegas out of more than $500,000 while using a sequencing technique he dubbed "The Hammer" on a single weekend!

Wally Simmons - Wally Simmons is quite likely the most underrated name in the Blackjack world. Although he hasn't played in some 20 years, in the early days he was a very skilled multi-faceted player that used sophisticated techniques long before they were well-known or fashionable to win millions.

As a computer programming genius, he also developed some of the first shuffle tracking computers that harvested additional millions, as well.

Along with Bill Benter, Wally went on to parlay his Blackjack money into incredible success as a technically savvy horse racing prognosticator.

Newest Inductee into Blackjack Hall of Fame

Congratulations to Don Johnson for being voted by his peers into the Blackjack Hall of Fame.

(Runner up was Rob Reitzen.)

Don Johnson now joins an illustrious group of blackjack dignitaries in the Blackjack Hall of Fame. (You can view the physical Blackjack Hall of Fame at the Barona Casino, located in San Diego, CA).) The up-to-date listing of the members of the Blackjack Hall of Fame (and the year they were inducted) include:
Al Francesco (2002)
Peter Griffin (2002)
Tommy Hyland (2002)
Arnold Snyder (2002)
Edward O. Thorp (2002)
Ken Uston (2002)
Stanford Wong (2002)
Max Rubin (2004)
Keith Taft (2004)
Julian Bruan (2005)
Lawrence Revere (2005)
John Chang (2006)
James Grosjean (2006)
Roger Baldwin, Wilbert Cantey, Herbert Maisel, and James McDermott, collectively known as the "Four Horsemen of Aberdeen" (2008),
Richard Munchkin (2009)
Darryl Purpose (2010)
Zeljko Ranogajec (2011)
Ian Andersen (2012)
Robert Nersesian (2013)
Don Schlesinger (2014)
Bill Benter (2015) and
Don Johnson (2016)
Calcutta
Next on the agenda was the usual Calcutta, which is sort of a pari-mutuel wagering where the attendees can bet on who will win the coveted Grosjean Cup. Below is the list of the seeds. Each attendee was slotted into an appropriate grouping. Max posted the opening odds of winning for each seed, and then attendees bid from $300 up to $5000 on who they thought would win the Grosjean Cup. (The Men's Field, consisting of any male less than 60 years of age that was not on any other team, is usually the best bet, which is why it bid up to $5000.)
THE RECENT CHAMPS Rick Blaine, Mr. Yuk & Smoke
Anthony Curtis & Gambling Sharp Frank B
THE MIT TEAM John Chang, Andy Bloch & Brains
The Final Table All Stars Pete C, Drew S, Tony S., & Joe Pane
David Y and Cody S.
Hall of Fame Team Schipani, Purpose, Snyder, Hyland & Zeljko, & Benter
Hall of Fame Nominees Reitzen, Wally, Johnson & Hubert
The Florida Solos. New team but STRONG
The Gambling Writers Rodman, Bob Dancer & Henry Tamburin
Other Gambling Writers Billings, Hollywood Dave & Barry Meadow
The Gambling Girls "Ruby in the Dust" & "The Queen of Hearts" + ?
THE GEEZERS-Anyone Not on List 60 Years or Older (Not in the Field)
THE WOMEN'S FIELD--Under 60
THE MEN'S FIELD--Under 60
Bidding was lively amongst this group of advantage players. (The reason, of course, was due to the overlay created when we all chipped in $20 at the door to seed the pot. There was some serious money to be won in the Calcutta, and the group of advantage players knew it.) Max, of course, was the auctioneer, and he kept extolling the virtues of players in each seed to bump up the bidding, which was often fast and furious. (Note: The money collected from the highest bidder for each seed goes into a pool, and the prize money was disbursed to the persons who purchased the finalists finishing first, second, and third (win, place, and show), and 10% was awarded to the winning bidder for the fourth place finisher, in the competition for the "World's Greatest Blackjack Player.") Also, the attendees in each seed are allowed to purchase up to 50% of themselves from the highest bidder.
Below are instructions given to everyone by Max prior to reading the test questions.
Blackjack Ball 2017
Round One Test Questions
As always, to prevent advantage play, as you fill out your game card, you must mark every true or false question or multiple choice question and fill in the blank before we move on to the next question and they must be marked with Black Ink. You cannot change your answer once you have marked your card. If there are any blanks or changed answers on your card then when it is graded or handed in, you will be disqualified. It's happened before and it wasn't pretty, was it Hollywood Dave?
Please write your name on your card now to make sure that your pens are working. If they aren't, hold up your hand and we'll bring you another one.
Also, anyone who looks at their cell phones for any reason, other than to take an emergency call, in which case we will all wait until that emergency has been dealt with, will also be disqualified from play. You are allowed to use the back of your playing card to calculate your answers,
BUT NOT THE CALCULATORS ON YOUR PHONES!
(Copy of the BJ Ball Test is below.)
Out of a possible 21 answers, the five players with the most correct answers were...
...enter your member login information below to read this article/newsletter...
Paid Members-Only Article
You have clicked on a link to a Blackjack Insider web page or article for paid subscribers. You must have a paid membership to the Blackjack Insider newsletter to view this content. About 1/2 of the articles in each issue of the Blackjack Insider are for paid members only, while the rest are viewable by everyone. Your purchased membership will allow you to read all Blackjack Insider articles for 12 months.
Enter your user name and password below (they were listed and e-mailed to you after you purchased your Blackjack Insider membership):
Forgot your membership id or password? Click here.
How do I get a membership?
A membership can be purchased online at our secure store with your credit card for only $19.95 per year. You will receive a user name and password immediately by e-mail which you can use to read the all past and future members-only articles for 12 months, as well as the regular free articles.
Do I have to buy a membership?
No. Blackjack Insider will continue to be published as a free monthly e-newsletter. But about 1/2 of the articles each month will be for paid members only. Subscribers without a membership can still view and read the non-members articles for free.
What happens after I buy a membership?
Immediately after you complete your purchase, you will receive a unique login user name and password. These are displayed on the final purchase page, and are e-mailed to you. When you click on a members-only article in our web site, you will be prompted for this user name and password (as shown above). Simply enter them, and enjoy the article! Note: make sure you turn on the checkbox above when you login, to save the user name and password so that you don't have to re-enter them every time you view members-only articles.
Why did you switch to paid memberships?
Blackjack Insider is a professional monthly publication with top-notch articles by world-reknown gaming experts. In addition, we have regular reporters that monitor game conditions and tournament schedules throughout North America. We use a partially paid subscriber model to enable us to continue getting the best content for our readers from leading authors on blackjack and gaming.
©2015, DeepNet Technologies. No material to be copied without express permission of DeepNet Technologies.
This site developed by DeepNet Technologies, Ontario, Canada. Contact webmaster @ bjinsider . com if you have problems.
This site is best viewed in a 800x600 graphics mode, or higher.