(web ads above removed with paid membership. Click here for advertisement rates)
HISTORY OF CASINO SURVEILLANCE-PART 2
by Vinny DeCarlo
Vincent DeCarlo is a retired veteran casino man with over 20 years of upper management experience. His expertise covers the pit, security, surveillance and he even served as a General Manager for two different casinos. Currently, Vinny travels the states as a freelance reporter and a personal consultant to many Indian casinos. According to Vinny DeCarlo, there are two types of casino employee people; those that know him, and those that claim to know him, so, never believe what you hear.
Note: Part 1 of this series appeared in the February issue of BJI.
The first surveillance cameras were hand-held 'family' type projection cameras. The film was much like the typical 35mm camera film, and it had to be well cared for when stored as evidence. It was proof and classified as "evidence" but it required more maintenance and attention (had to be kept locked in a dry area, etc.) than that Paris Hilton girl.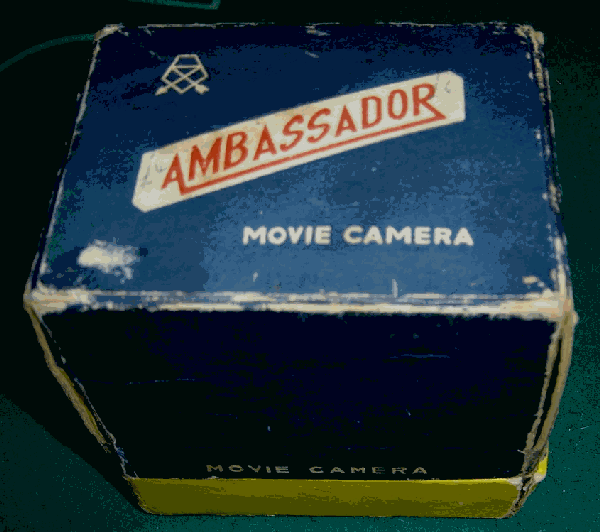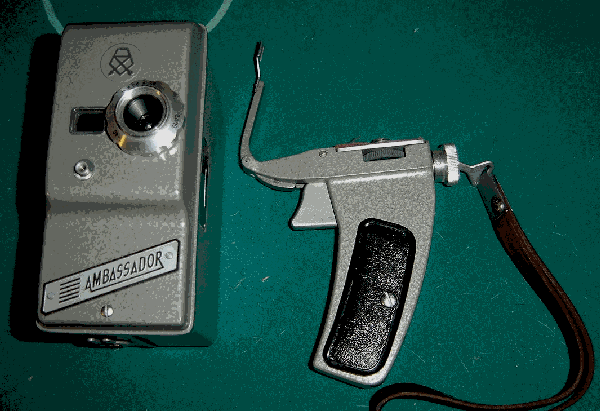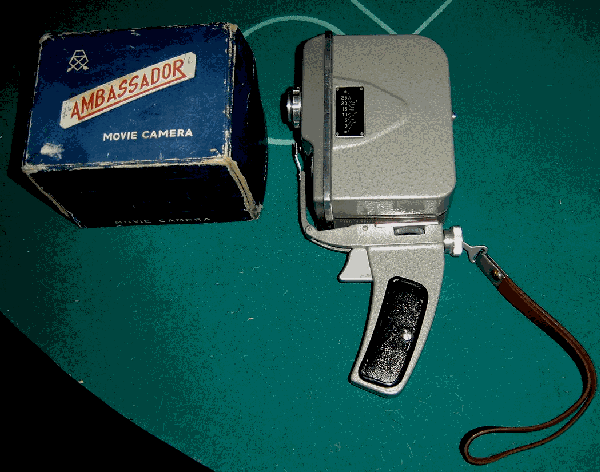 The "Ambassador Camera" most agents had to deal with. Note the "Pistol" grip that, if still in production, would be banned in CA J
Setting up our surveillance playback equipment in a courtroom was a real Three Stooges Act with trying to level the projector and praying that the bulb didn't ignite and melt the tape during the 'evidence' portion of the film. Then we had to open up and stand up the projection screen, which, for one reason or another, didn't want to cooperate as long as there were jurors in the box or an audience of any sort. I was like dealing with a possessed umbrella. Some of the judges would get so angry and we felt that we lost the case before we could show the evidence. I remember walking out of the courtroom with my boss after several such episodes. Half way to the truck he stopped, grabbed me by my tie and said, "I don't ever want to be embarrassed like that again, ever, understand?" Hell, the same thing would happen the next week. Just par for the course, I guess.
Both the GCB and the casino owners and general managers wanted a ...
...enter your member login information below to read this article/newsletter...
Paid Members-Only Article
You have clicked on a link to a Blackjack Insider web page or article for paid subscribers. You must have a paid membership to the Blackjack Insider newsletter to view this content. About 1/2 of the articles in each issue of the Blackjack Insider are for paid members only, while the rest are viewable by everyone. Your purchased membership will allow you to read all Blackjack Insider articles for 12 months.
Enter your user name and password below (they were listed and e-mailed to you after you purchased your Blackjack Insider membership):
Forgot your membership id or password? Click here.
How do I get a membership?
A membership can be purchased online at our secure store with your credit card for only $19.95 per year. You will receive a user name and password immediately by e-mail which you can use to read the all past and future members-only articles for 12 months, as well as the regular free articles.
Do I have to buy a membership?
No. Blackjack Insider will continue to be published as a free monthly e-newsletter. But about 1/2 of the articles each month will be for paid members only. Subscribers without a membership can still view and read the non-members articles for free.
What happens after I buy a membership?
Immediately after you complete your purchase, you will receive a unique login user name and password. These are displayed on the final purchase page, and are e-mailed to you. When you click on a members-only article in our web site, you will be prompted for this user name and password (as shown above). Simply enter them, and enjoy the article! Note: make sure you turn on the checkbox above when you login, to save the user name and password so that you don't have to re-enter them every time you view members-only articles.
Why did you switch to paid memberships?
Blackjack Insider is a professional monthly publication with top-notch articles by world-reknown gaming experts. In addition, we have regular reporters that monitor game conditions and tournament schedules throughout North America. We use a partially paid subscriber model to enable us to continue getting the best content for our readers from leading authors on blackjack and gaming.
©2015, DeepNet Technologies. No material to be copied without express permission of DeepNet Technologies.
This site developed by DeepNet Technologies, Ontario, Canada. Contact webmaster @ bjinsider . com if you have problems.
This site is best viewed in a 800x600 graphics mode, or higher.