(web ads above removed with paid membership. Click here for advertisement rates)




ALL ABOUT POKER:

SITE REVIEW,TITANPOKER.COM

by Bill Burton

Bill Burton is an advantage blackjack player and skilled poker player. He is the author of the best-selling book, "Get the Edge at Texas Low Limit Holdíem", available at 10% discount from the

BJI online store, and the guide at www.casinogambling.about.com.

In a past column I wrote about the importance of games selection. This concept is not limited to choosing amongst the games on a single site. Most winning players are registered on more than one site. This gives them many more games and tournaments to choose from. You will also encounter different players on each site and you may find certain games or tournaments more beatable on one site than another. You can also take advantage of bonus offers for new players. Once you are signed up on several sites you can look for tournaments that offer guaranteed prize money no matter what the number of players entered. (Iíll have more to say on this in a future article.)

Poker Networks

Although there are hundreds of poker sites, there are only about 20 poker networks. The rest of these sites are "Skins" or affiliates of the parent Network and many are independently run. You might sign up for a new poker site and when you start playing you discover that it looks just like another site you have played on. It is quite possible you are playing on the same Network but through a different skin. This is why when you go to pick the same "player name" that you use on another site you find that the name is already taken.

However, each site on the network can offer different promotions and sign up bonuses to get new customers. Some of the networks are bigger than others although there are advantages to both the big and the smaller sites.

Titan Poker

Titan Poker is part of the Ipoker Network (http://www.ipoker.com/). It is a smaller site in relationship to some of the larger ones that do more advertising and there are pros and cons to this.

The advantage to playing on a smaller site is you will encounter more of the same players. If you have players you can easily beat, you can probably find them easier than on some of the larger sites. Another advantage is there will be a smaller field of players in the tournaments. This works out well in the tournaments with a guaranteed prize amount. Instead of having to beat out 1,000 or more players, you may only have a field of a few hundred. The smaller number of players in the tournament will also put more of the prize money at the top instead of spreading the payout down to 150 or more players as you find in the huge tournaments on the bigger sites.

A disadvantage to a smaller site is that you may not always have the game selection that you have at the larger sites. However, this is the reason for playing on multiple sites. If the games or tournaments are not to your liking, you can look elsewhere on another site.

Bonus Promotions

Titan Poker offers some good promotions and bonuses. At the time I signed up on their site, they were offering a 100 percent sign up bonus for new players. You are awarded your bonus by earning Titan Points each time you play. They also offer some other unique promotions such as entry into a $500,000 freeroll tournament by referring two friends.

There is a $100,000 prize to any player who wins six consecutive $59 Fort Knox Sit & Go Tournaments, or if you donít finish first, you can still get a $750 prize to a player who finished in either 1st or 2nd place in six consecutive Fort Knox Sit & Go Tournaments.

Editor's note: we have arranged an addition amazing offer with Titan Poker and BJI...
Want to get your full BJI membership paid for three years??!! Who wouldn't! Now you can, simply by playing at some of our online casinos sponsors. Just create a new account at Titan Poker or Casino Tropez, deposit $60, enjoy the casino or poker games, and you'll receive a 3-year full paid-member subscription to Blackjack Insider. If you're not a paid-member yet, then you're missing out on all the great members-only articles every month. Plus, you're entitled to all the usual online bonuses, up to $500. Click here for all the details.

Collecting Your Bonus.

Titan Poker Points are earned at ring games based on the "rake taken" during each hand

. For example, if $0.50 in rake is taken at a hand, all participating players, whether they contributed to the pot by placing a blind or a bet, or whether they folded, will receive 1 Point. If $3 is taken at a hand, all participating players will receive 11 Points. Clarification: "rake taken" refers to the entire amount of rake taken from all players during the hand, and not from any individual player. This is different from some site which only gives points to the players who contributed money to the pot.

Another difference is that bonuses are released automatically at the rate of 1,000 Points = $10.

For every 1,000 Points you earn, $10 will be redeemed from your Pending Bonus Dollars account and converted into real money. This is done automatically. Some sites require that you play your entire number of raked hands before they release the bonus as a lump sum.

The Look
Titan Poker uses 10 player tables. There are some sites that have 9 player tables. Since you get credit toward your bonus for each raked hand even if you are not involved in the pot you will get one more hand without having to post the blinds that you would at a 9 player table.
A Good Alternative
If you already play online you can add Titan Poker to the sites you play. If you are new to online poker, this is a good site to play poker. With the generous sign up bonus, you should try it out. Even if you find you donít like the site, you can play long enough to collect your bonus and you should still come out ahead.
Until Next time remember:
Luck comes and goes.....Knowledge Stays Forever.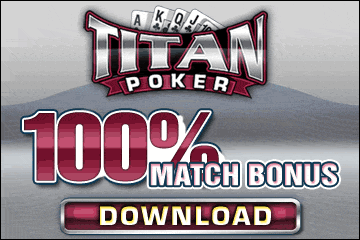 ©2015, DeepNet Technologies. No material to be copied without express permission of DeepNet Technologies.
This site developed by DeepNet Technologies, Ontario, Canada. Contact webmaster @ bjinsider . com if you have problems.
This site is best viewed in a 800x600 graphics mode, or higher.