(web ads above removed with paid membership. Click here for advertisement rates)
COUNTER BASIC STRATEGY:
INCREASE YOUR EDGE AT BLACKJACK
By HAL MARCUS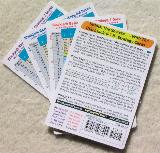 Hal Markus developed the Blackjack 6-7-8 training software and the new Blackjack 6-7-8 Basic Strategy Cards. For more details on the strategy cards, including a 10% discount for Blackjack Insider subscribers, click here.
What first steps did you learn when you started to play blackjack? Presumably, you learned the rules of the game, including options like splitting and doubling down, and when you could exercise the options. You also discovered (but perhaps not right away) that some playing strategies were better than others, and that there existed this concept of Basic Strategy which provided the correct playing strategy for any combination of playerís hand and dealerís upcard. For example, many players always stand on A,7 when the best decision is to sometimes double, sometimes stand, and sometimes hit, depending on the dealerís upcard. At this point, using Basic Strategy, youíre playing almost even with the house. This is much better than the average blackjack player who loses 2% of all money bet to the house.
The next step you took (or perhaps plan on taking in the future) was to learn how to count cards in order to get the edge over the house. Card counting provides a mechanism that alerts you as to whether you should raise or lower your bet, depending on the count. As the count rises into positive territory, you increase your bet to reflect your increasing advantage. This is how you get the edge over the house ó you bet more when the distribution of remaining cards favors the player, and you bet less when the distribution of remaining cards favors the casino. You can increase your edge further by varying your playing strategy based on the count. For example, with some sets of point count values, such as the Hi-Lo, when using a Count Index Playing Strategy, the index number for 16 v. 10 is 0. This means that if the count >= 0, stand instead of hit (assuming you canít surrender). Basic Strategy says to always hit 16 v. 10 when you canít surrender. Memorizing a lot of index numbers and recalling them under casino conditions can be quite tedious although using the Illustrious 18 (see Blackjack Attack by Don Schlesinger) substantially reduces the number of indexes to commit to memory.
The development of Basic Strategy does not reflect oneís bet spread. And the development of a Count Index Playing Strategy, while it considers the set of point count values to determine at which count index you should deviate from Basic Strategy, also does not consider the bet spread. I wondered whether taking the bet spread into account could be used to fine tune Basic Strategy to increase oneís expected win rate. For example, letís say you vary the bet from 1 to 16 based on the count in a 6-deck game. With 16 v. 10 (assume surrender is not allowed), the question is which produces the greater expected value: always hitting or always standing. I examined every combination of playerís hand and dealerís upcard to answer questions such as these. My research lead to a modified Basic Strategy known as Counter Basic Strategy ("CBS"), and in 2000 I presented a paper on CBS at the 11th International Conference On Gambling & Risk-Taking.
...enter your member login information below to read this article/newsletter...
Paid Members-Only Article
You have clicked on a link to a Blackjack Insider web page or article for paid subscribers. You must have a paid membership to the Blackjack Insider newsletter to view this content. About 1/2 of the articles in each issue of the Blackjack Insider are for paid members only, while the rest are viewable by everyone. Your purchased membership will allow you to read all Blackjack Insider articles for 12 months.
Enter your user name and password below (they were listed and e-mailed to you after you purchased your Blackjack Insider membership):
Forgot your membership id or password? Click here.
How do I get a membership?
A membership can be purchased online at our secure store with your credit card for only $19.95 per year. You will receive a user name and password immediately by e-mail which you can use to read the all past and future members-only articles for 12 months, as well as the regular free articles.
Do I have to buy a membership?
No. Blackjack Insider will continue to be published as a free monthly e-newsletter. But about 1/2 of the articles each month will be for paid members only. Subscribers without a membership can still view and read the non-members articles for free.
What happens after I buy a membership?
Immediately after you complete your purchase, you will receive a unique login user name and password. These are displayed on the final purchase page, and are e-mailed to you. When you click on a members-only article in our web site, you will be prompted for this user name and password (as shown above). Simply enter them, and enjoy the article! Note: make sure you turn on the checkbox above when you login, to save the user name and password so that you don't have to re-enter them every time you view members-only articles.
Why did you switch to paid memberships?
Blackjack Insider is a professional monthly publication with top-notch articles by world-reknown gaming experts. In addition, we have regular reporters that monitor game conditions and tournament schedules throughout North America. We use a partially paid subscriber model to enable us to continue getting the best content for our readers from leading authors on blackjack and gaming.
©2015, DeepNet Technologies. No material to be copied without express permission of DeepNet Technologies.
This site developed by DeepNet Technologies, Ontario, Canada. Contact webmaster @ bjinsider . com if you have problems.
This site is best viewed in a 800x600 graphics mode, or higher.