(web ads above removed with paid membership. Click here for advertisement rates)
Friends of Blackjack Insider... great sites from our authors and partners:
| | |
| --- | --- |
| BJRNet.com is a premier web store and forum center for advantage gamblers. Huge product catalog! | |
STICKMAN'S STANCE: ULTIMATE X POKER
by Jerry "Stickman"
Jerry "Stickman" is an expert in craps, blackjack, video poker and advantage slot machine play. Frank Scoblete's and Jerry "Stickman's" book "Everything Casino Poker: Get the Edge at Video Poker, Texas Hold'em, Omaha Hi-Lo and Pai Gow Poker" presents dozens of video poker games and strategies for maximum returns. He is a regular contributor to top gaming magazines. You can contact Jerry "Stickman" at stickmanjerry@aol.com.
This is the second article in a series on unique video poker games. This month, Ultimate X Video Poker will be examined. This game will be explored for strengths and weaknesses, pluses and minuses. Hopefully the readers will use this information to make intelligent choices concerning video poker games they choose to play.
Description
Ultimate X Video Poker is a variant of video poker that can play the same as standard video poker (when playing one to five credits per line), but the real allure of this game comes when the player doubles the max bet from five to 10 credits per line. When this happens, each winning line sets up a multiplier for that line that is activated with the next hand is played.
Ultimate X Poker is available in several of the more popular games such as Jacks or Better, Bonus Poker, Bonus Poker Deluxe, Double Bonus Poker, Double Double Bonus Poker, Deuces Wild, Joker Poker, and Triple Double Bonus. These types of games are available in single-line play (though not very common), 3-play, 5-play and 10-play variations. Most machines offer multiple denominations from five cents through 25 cents that can be selected for play. Remember that to activate the Ultimate X feature, 10 credits per line must be bet. This means that even on a nickel 10-line game the total bet per game is five dollars - 10 nickels (50 cents) per line for 10 lines.
Multipliers and Return
The multipliers for winning hands vary depending on the type of game (Jacks or Better, Bonus Poker, etc.), pay table, and number of lines played. Here is an example of the pay table and multipliers of an actual 3-play Bonus Poker game.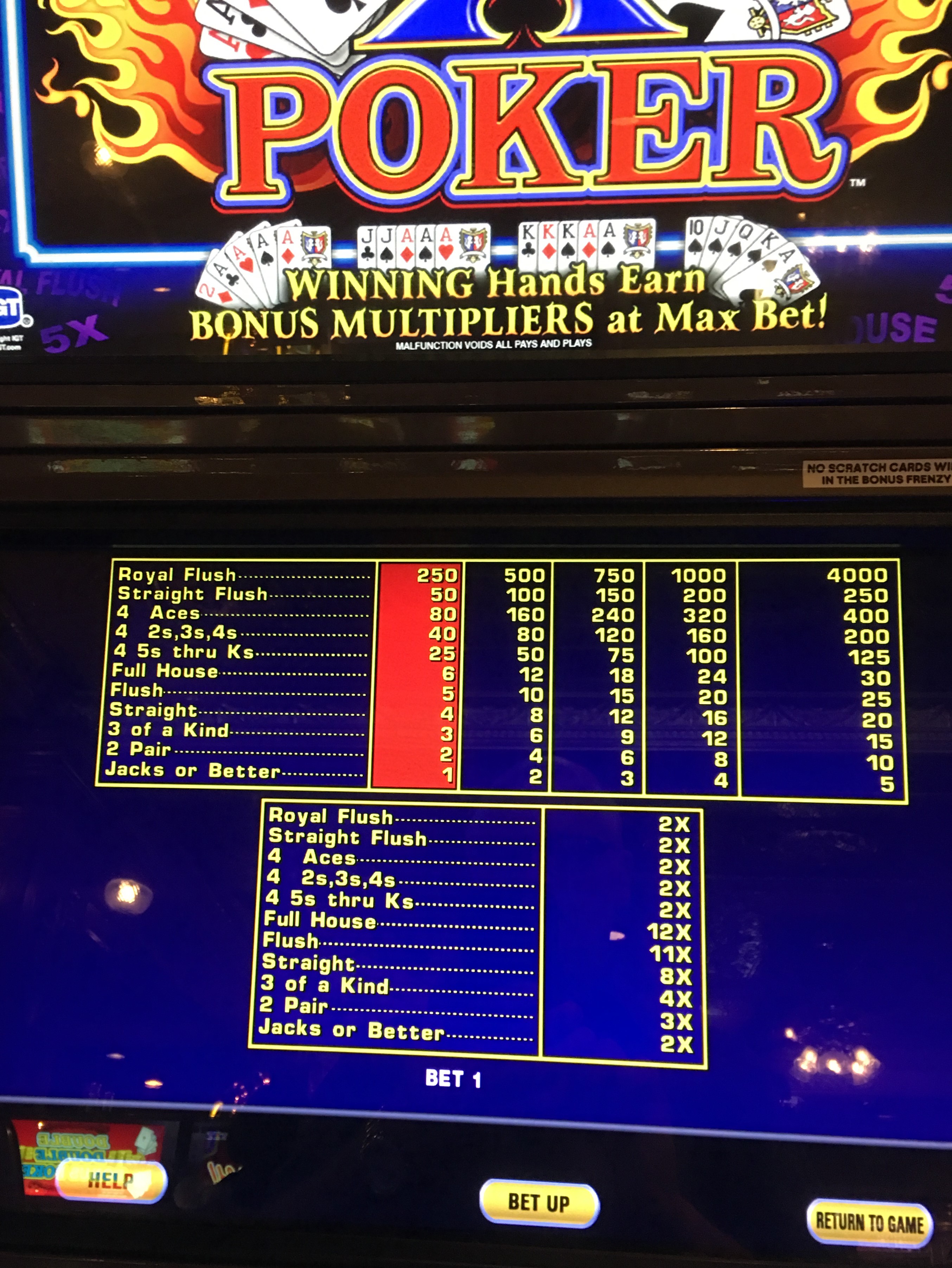 Notice that the pay table of the game is significantly downgraded from a full-pay 8/5 version to 6/5. It is extremely difficult to find a full-pay Ultimate X game. However, there is some good news. The multipliers improve the return of the game a bit.
For example, the return of a standard, single play 6/5 Bonus Poker game is 96.87 percent. The table below shows the returns for 3-play, 5-play, and 10-play games. Notice that the multipliers increase a bit as the number of plays increases...
...enter your member login information below to read this article/newsletter...
Paid Members-Only Article
You have clicked on a link to a Blackjack Insider web page or article for paid subscribers. You must have a paid membership to the Blackjack Insider newsletter to view this content. About 1/2 of the articles in each issue of the Blackjack Insider are for paid members only, while the rest are viewable by everyone. Your purchased membership will allow you to read all Blackjack Insider articles for 12 months.
Enter your user name and password below (they were listed and e-mailed to you after you purchased your Blackjack Insider membership):
Forgot your membership id or password? Click here.
How do I get a membership?
A membership can be purchased online at our secure store with your credit card for only $19.95 per year. You will receive a user name and password immediately by e-mail which you can use to read the all past and future members-only articles for 12 months, as well as the regular free articles.
Do I have to buy a membership?
No. Blackjack Insider will continue to be published as a free monthly e-newsletter. But about 1/2 of the articles each month will be for paid members only. Subscribers without a membership can still view and read the non-members articles for free.
What happens after I buy a membership?
Immediately after you complete your purchase, you will receive a unique login user name and password. These are displayed on the final purchase page, and are e-mailed to you. When you click on a members-only article in our web site, you will be prompted for this user name and password (as shown above). Simply enter them, and enjoy the article! Note: make sure you turn on the checkbox above when you login, to save the user name and password so that you don't have to re-enter them every time you view members-only articles.
Why did you switch to paid memberships?
Blackjack Insider is a professional monthly publication with top-notch articles by world-reknown gaming experts. In addition, we have regular reporters that monitor game conditions and tournament schedules throughout North America. We use a partially paid subscriber model to enable us to continue getting the best content for our readers from leading authors on blackjack and gaming.
©2015, DeepNet Technologies. No material to be copied without express permission of DeepNet Technologies.
This site developed by DeepNet Technologies, Ontario, Canada. Contact webmaster @ bjinsider . com if you have problems.
This site is best viewed in a 800x600 graphics mode, or higher.