(web ads above removed with paid membership. Click here for advertisement rates)
LAS VEGAS BLACKJACK REPORT: FEAR AND LOATHING AT THE STADIUM TERMINAL
by Stu D. Hoss
Stu D. Hoss is a retired Air Force officer and aviator. He has visited and served in over 40 countries including flying combat missions in the Balkans, Afghanistan, Iraq, and the Horn of Africa. Most of it under the guise of keeping the world safe for democracy, better blackjack, and for a few other personal reasons. He has been playing blackjack for 20+ years, and cut his teeth on the tables of South Lake Tahoe during flight training in Northern CA. Mr. Hoss uses basic strategy and the HiLo count method to give himself a chance against the house edge. He currently resides in NV and is pursuing options for a second career. He's a regular attendee at the Global Gaming Expo each year in Las Vegas.
Note: The observation and review of this game was made in February 2017. The casino visited in Las Vegas this month was:
Venetian, 3355 Las Vegas Boulevard South
This month we're going to change things up a bit. Instead of investigating actual blackjack conditions, I'll be reviewing a relatively new game called Stadium Blackjack. Perhaps you've seen it? Currently it's being offered at the Venetian in Las Vegas. In the space below I'll attempt to explain the game and how it's played. I'll also share my experience at the Venetian and my thoughts on Stadium Blackjack. Let's get the words on the felt!
Stadium Blackjack is a variation of traditional blackjack and represents a sort of combination or synthesis of the live game that most of you are familiar with and video slots. Stadium Blackjack is a product of publically traded Scientific Games (ticker symbol SGMS; NASDAQ), a global technology, lottery, and gaming company based in Las Vegas. The Venetian was the first to unveil and trial test Stadium Blackjack in the Las Vegas market. I first noticed this game in December while conducting other business at the Venetian. I went back this month for a much closer examination and took a visiting gambling friend along for the ride.
The "Stadium" is located across from the Venetian's race and sports book. The gaming space construct combines multiple player terminals; two hybrid blackjack tables facing opposite directions; a dealer for each; a center console between the two dealers which displays video images of the initial cards being dealt by each respective dealer; and software and cameras that enable the terminals and dealer outposts the ability to "communicate" in real-time. The layout at the Venetian has 44 player terminals surrounding a pair of live dealers with 22 of these terminals on each side. During our visit, there was only one dealer.
The physical layout reminded me of a classroom and the dealer stood at the head of the class and doled out her own form of "knowledge" from a six-deck continuous shuffler (CS). As we approached the outer row of terminals, my friend pointed out that blackjacks paid 6:5; a big show stopper! Betting minimums were $5. We intently examined the inactive terminals for clues on how to play. Much of it was instinctively obvious to the both of us (and my friend is not even a blackjack player). Additional game rules can be found by depressing the HELP button. If you are comfortable with iPads, Tablets, or touch-screen interfaces in general, that is a plus. If you are not, then you aren't the target audience for this game. The Stadium concept is allegedly aimed at Millennials, and those desiring a "skill-based" game and socially interactive experience. I know. I know - more on that later!
Each terminal in the Stadium Gaming area in the casino has its own interactive video display. To begin, players insert cash into a slot which converts the money into gaming credits like on the TITO slot and video poker machines. Don't forget to insert your player's card. Play is rated like on the actual table games and not like the machine games; so don't expect much, if anything, in the way of comps. Wagers are placed by sliding a virtual chip into the betting square. Chips were colored in white, red, green, and black representing $1, $5, $25, and $100 denominations. If two dealers are present, you can allegedly pick which dealer you want to play against, but that was not obvious on the terminal display; maybe this was because only one dealer was present. After bets are placed, the hand begins with three cards being dealt face-up from the CS. Two belong to the players and the other card is the dealer's up-card. A hole card is not dealt at this time. All players begin with the same starting hand and play against the displayed dealer up-card. The dealer's second and subsequent cards are drawn after all player hands are complete. A dealt non-push blackjack to any player makes everyone a winner; anything else then individual decisions have to be made. Royal Match 21 and Bet the Set 21 side bets are also available.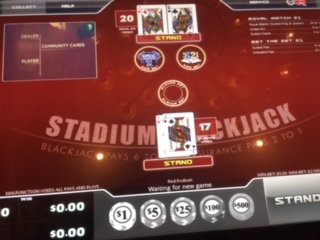 Buttons on the video terminals allow the players to convey their decisions. STAND and HIT are obvious and appear on the lower right of the terminal display. DOUBLE DOWN, SPLIT, SURRENDER, and INSURANCE are other choices and appear on a "sub-menu" for lack of a better term when the situation allows. To keep the game moving, there is a ten-second "decision clock" that appears when it's your turn to act. If no decision button is depressed prior to the ten-second clock expiring, the player will automatically "stand" and the next player will be "on the clock." Once all the player hands are complete, the dealer completes their hand by drawing as many cards as it takes to make a hard 17 or greater. Each player's terminals are credited or subtracted depending on the outcome of their hand versus the dealer's and the physical cards are returned to the shuffler where they may or may not appear in the very next hand.
Since Stadium Blackjack is dealt from a CS and you can't see what others are doing, there's no way to even begin to card count. Speaking of counting, if you struggle with soft hands or have had seven cocktails too many, the terminal adds up your card total for you. Since the dealer begins with only one card, every draw prior has an impact on the dealer's second card. That card will determine whether they will stand with a pat hand or be forced to draw again. If you've ever played European blackjack, it's the same situation except not nearly as obvious or pressure-laden for the player at third base. With 312 possible cards to begin every hand, there's no measurable advantage or disadvantage to be gained; just play your hand properly and don't waste too much brain power contemplating this.
My friend and I asked the two players sitting together if we could watch a few hands over their shoulders. They happily obliged and after seeing a few hands, I had more questions and we headed to the "teacher's desk" to have our questions answered. With no thanks to the dealer, and an obvious language gap, I managed to get a couple of my questions answerted before being encouraged to be on my way. I was unable to determine if re-splitting Aces and doubling after splits was allowed. I'm guessing "No" on the former and if the latter is allowed, the option would present itself in a sub-menu button on the screen. The dealer either couldn't or wouldn't answer my specific questions about the "intricacies" of the game. Dumb tourists aren't supposed to ask questions, so Heaven forbid anyone should be knowledgeable or proficient in my spoken language to answer them, right?!
One of my questions was about cards drawn by each of the players to complete or bust their hands. These cards are dealt face up and put in a section at the dealer's station dubbed "Community Cards." This name really is a misnomer as these cards are merely cards dealt into each individual's hand and seen on that player's video terminal. The other players don't know what these cards are and can't view them, much less use them in a community fashion for their own hand. It essentially "protects" new players from the wrath of the rest of the table when they misplay a hand. They are free to hit their 14 against the dealers 5 in anonymity. This is one of the alleged marketing positives of the game - it's not intimidating to new players.
Other so-called "positives" of Stadium Blackjack are...
...enter your member login information below to read this article/newsletter...
Paid Members-Only Article
You have clicked on a link to a Blackjack Insider web page or article for paid subscribers. You must have a paid membership to the Blackjack Insider newsletter to view this content. About 1/2 of the articles in each issue of the Blackjack Insider are for paid members only, while the rest are viewable by everyone. Your purchased membership will allow you to read all Blackjack Insider articles for 12 months.
Enter your user name and password below (they were listed and e-mailed to you after you purchased your Blackjack Insider membership):
Forgot your membership id or password? Click here.
How do I get a membership?
A membership can be purchased online at our secure store with your credit card for only $19.95 per year. You will receive a user name and password immediately by e-mail which you can use to read the all past and future members-only articles for 12 months, as well as the regular free articles.
Do I have to buy a membership?
No. Blackjack Insider will continue to be published as a free monthly e-newsletter. But about 1/2 of the articles each month will be for paid members only. Subscribers without a membership can still view and read the non-members articles for free.
What happens after I buy a membership?
Immediately after you complete your purchase, you will receive a unique login user name and password. These are displayed on the final purchase page, and are e-mailed to you. When you click on a members-only article in our web site, you will be prompted for this user name and password (as shown above). Simply enter them, and enjoy the article! Note: make sure you turn on the checkbox above when you login, to save the user name and password so that you don't have to re-enter them every time you view members-only articles.
Why did you switch to paid memberships?
Blackjack Insider is a professional monthly publication with top-notch articles by world-reknown gaming experts. In addition, we have regular reporters that monitor game conditions and tournament schedules throughout North America. We use a partially paid subscriber model to enable us to continue getting the best content for our readers from leading authors on blackjack and gaming.
©2015, DeepNet Technologies. No material to be copied without express permission of DeepNet Technologies.
This site developed by DeepNet Technologies, Ontario, Canada. Contact webmaster @ bjinsider . com if you have problems.
This site is best viewed in a 800x600 graphics mode, or higher.