(web ads above removed with paid membership. Click here for advertisement rates)
STICKMAN'S STANCE: THE HISTORY OF THE TUNICA CASINOS-Part 4
by Jerry "Stickman"
Jerry "Stickman" is an expert in craps, blackjack, video poker and advantage slot machine play. Frank Scoblete's and Jerry "Stickman's" book "Everything Casino Poker: Get the Edge at Video Poker, Texas Hold'em, Omaha Hi-Lo and Pai Gow Poker" presents dozens of video poker games and strategies for maximum returns. He is a regular contributor to top gaming magazines. You can contact Jerry "Stickman" at
stickmanjerry@aol.com
.
Note: The previous articles in this series appeared in BJI issues #203, 204, and 205.
This series of articles contains a look at current casino conditions in Tunica County against the backdrop of the history of casinos in the area. This article covers Tunica from the devastating flood of 2011 to the present day.
Note: The opinions about the cause of the current conditions in Tunica are solely those of the author unless otherwise stated.
As detailed in previous installments of this series, Tunica at one time was what many considered (myself included) the best gaming destination in the country. To recap a bit from previous installments, the games offered had decent rules, reasonable minimums, and the crews were genuinely friendly to the casino's customers. Comps were the best anywhere in the country. Most casinos had weekly giveaways that included small appliances, knick-knacks, and other logo collectables. These were available basically by simply showing up (assuming you also had a casino player's club card and played a little in the casino). Free buffets were abundant and free rooms were easy to be had. Bounce-back cash and free play offers were among the best in the nation.
During the years leading up to the flood of May, 2011, Tunica casinos tightened comps and tightened rules for games in order to try to increase profits. They used heat at the tables and slashed comps to discourage anyone who they felt might have an edge over the house.
During this time, Harrah's bought the Horseshoe Casino Tunica owned by Jack Binion. Corporate mentality had actually taken over all of the Tunica casinos. They did not see what Jack Binion saw. Jack new that if you give gamblers a fair game, there will sometimes be winners. Winning players at the tables may cost the casino a few dollars at that moment, but the tables fill up with players who will spend the rest of the night losing every dollar they brought with them (and even hit the ATM for more) in order to try to recapture the feeling of that previous win. Jack knew that winning players do not hurt the casinos in the long run, they help. Not only do winning table-game players fill the tables with other non-winning players, who end up losing much more than the winners, but winning table-games players are usually accompanied by others who lose many, many times more than the table players win.
Over a weekend in April, 2011, a group with which I was affiliated held blackjack and craps classes in the area. We had been forced to move our classes to Memphis by threats on two previous occasions that we would end up in jail if we held the classes in Mississippi.
I consider it extremely fitting and ironic that after being forced from Tunica in April, 2011, Tunica casinos themselves were forced to close in May, 2011 by a monstrous flood. Casinos remained closed for several weeks before they could be made inhabitable once again.
The floods were indeed devastating. Some casinos were impacted more than others, but all had to close for a period of time. The images below should help convey just how devastating the flood was.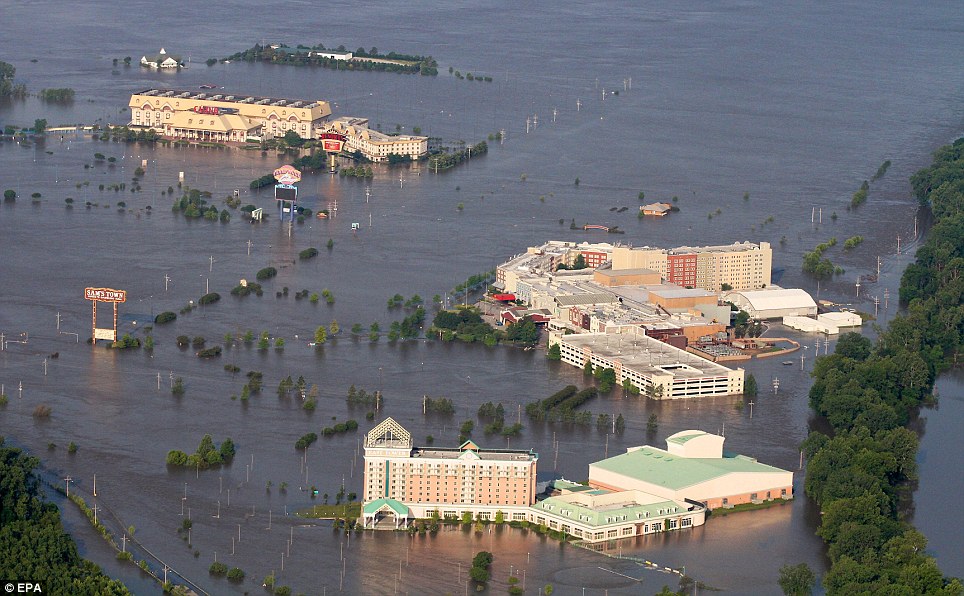 Hollywood (off the picture on the left), Resorts at the top, Sam's Town to the right and bottom were among the hardest hit.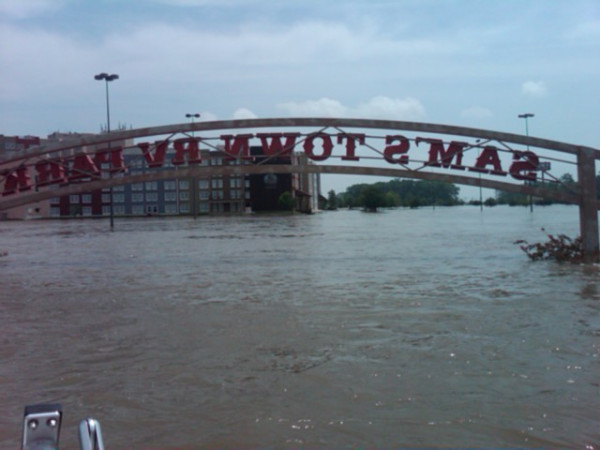 Here is a different perspective of the severity of the floodwaters at Sam's Town RV Park.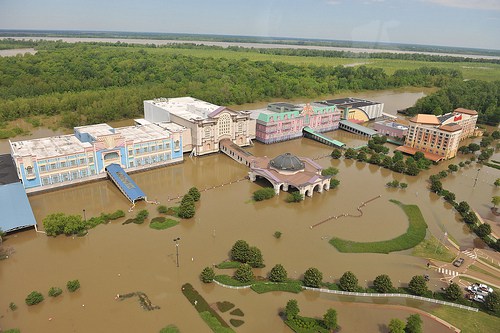 Harrah's at the north end of Tunica casinos was also hard hit.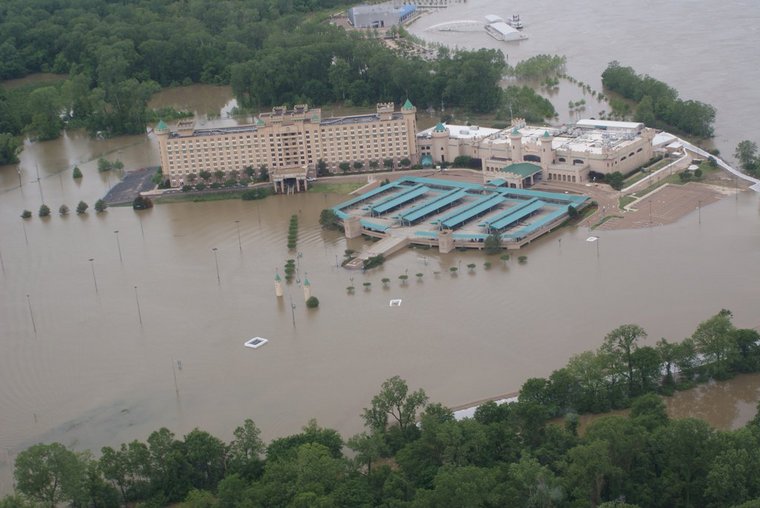 Fitzgerald's buildings were relatively unaffected, although the parking structure was flooded and there was no way to get to the casino by land.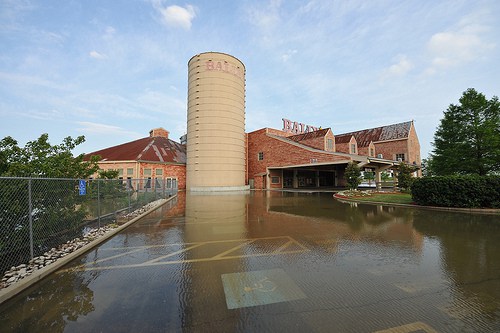 Bally's buildings were also relatively unaffected.
As were the buildings for Gold Strike, Horseshoe and Sheraton.
While the severity of the actual damage to the buildings from floodwater varied, all Tunica casinos lost money due to their inability to remain open because of flooded roadways.
Obviously, these casinos needed to do something in order to recover from this loss once they reopened. What did they choose to do?
Initially, most casinos sent offers to their regular customers including free meals, free play, and various other enticements for them to return and once again begin spending.
The Tunica casinos could have committed to offering great games, friendly crews, and decent comps in order to regrow their business. They could have - but most did not. Astoundingly (to me) these initial offers were fairly quickly reduced or discontinued. The games were never really improved from a player's perspective. Rather than showing their customers what a great place to play (their particular casino was), they instead took a typical accountant stance (Harrah's business model) and reduced offers and comps below what was offered prior to the flood. They did not look beyond the current quarter's business.
Rather than offer better (more player friendly) games, most of the Tunica casinos (to be fair, not all of them) either continued with substandard rules, or made the rules worse. Rather than make comps easier, the tightened them. Rather than making sure the games were a fun experience for all, they instead, aggressively targeted any player the casino thought might be losing less than they would like (even though they were not necessarily winning over the mid- or long-term - much less those who did win something).
So how well did this strategy work for the Tunica casinos?
Not very well.
Casino profits continued to decline. Casinos had to lay off employees. Restaurants closed. The number of tables and slots on the casino floor were reduced. The entire second floor of Sam's Town was closed off. Things culminated in June of 2014 when Harrah's - the former crown jewel of Caesar's Entertainment in Tunica - was forced to close.
Other casinos hoped that Harrah's closing would help their business. For a while it did. But apparently the Tunica casino management had not learned anything from the experiences of the previous decade or so. They continued the low comps and antagonistic tactics against casino players and business continued to fall.
Not only did business at the casinos fall off, so did surrounding businesses. The Casino Factory Outlet Shoppes, which had, at one time, boasted 40 shops, today has only a handful still open. Everywhere you look in Tunica, the signs of decay are evident.
Tunica county tax collections are down making it more difficult to maintain the infrastructure of the county.
A recent television news program had a story stating the Tunica Times reported casino employees will receive no raises and there is a freeze on hiring due to reduced casino profits. According to the newspaper, there is a $3.5 million shortfall. Casino profits are down 11 percent over the last year.
Recently there was an article in the Memphis Commercial Appeal. The headline read, "Tunica Woes Good for Southland." Southland is a dog track and casino in West Memphis, Arkansas that has been steadily growing. Apparently all the disappointed or angry former Tunica players are finding a new home closer to home.
Next month's article will detail the current playing conditions in Tunica. It will also take a look at Southland to see why things seem to be going good for them.
Things are indeed looking bleak for Tunica casinos. Will they continue with the same tactics that put them where they are now, or have they learned something?
I know how I am betting.
So, until next time;
All the best in your casino and life endeavors.
Jerry "Stickman"
©2015, DeepNet Technologies. No material to be copied without express permission of DeepNet Technologies.
This site developed by DeepNet Technologies, Ontario, Canada. Contact webmaster @ bjinsider . com if you have problems.
This site is best viewed in a 800x600 graphics mode, or higher.