(web ads above removed with paid membership. Click here for advertisement rates)
STICKMAN'S STANCE: THE HISTORY OF THE TUNICA CASINOS-Part 2
by Jerry "Stickman"
Jerry "Stickman" is an expert in craps, blackjack, video poker and advantage slot machine play. Frank Scoblete's and Jerry "Stickman's" book "Everything Casino Poker: Get the Edge at Video Poker, Texas Hold'em, Omaha Hi-Lo and Pai Gow Poker" presents dozens of video poker games and strategies for maximum returns. He is a regular contributor to top gaming magazines. You can contact Jerry "Stickman" at
stickmanjerry@aol.com
.
Note: Part 1 appeared in last month's of BJI.
This series of articles contains a look at current casino conditions in Tunica County against the backdrop of the history of casinos in the area. This month I'll cover Tunica during the years of relative stability and growth through 2005. These were good times for the casinos and the players.
But first, let's recap a little. The last article covered Tunica from 1992. The first casino, "Splash" was accessed by actually going into the town of Tunica and turning west in the center of town. It was a long, narrow casino, which from the inside, resembled exactly what it was - an enclosure built on top of barges. Here is an old picture of the casino in its prime.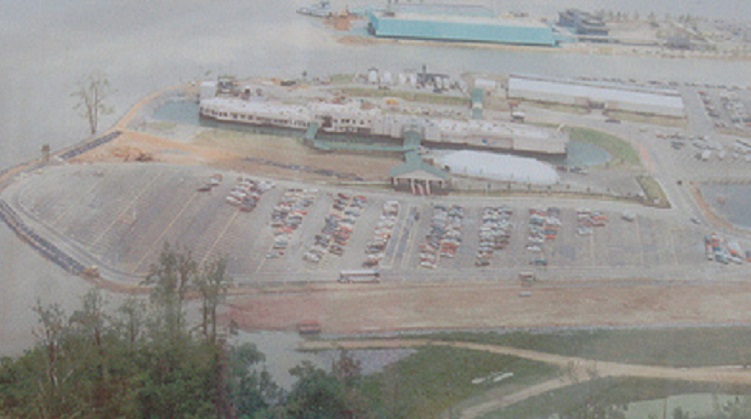 Splash had an exclusive agreement with the state and was the only casino allowed in the area for a year. They charged a $10 entry fee. Even with the fee, there were long lines waiting to enter the casino. After the year was up, other casinos began opening and the fee was ultimately dropped.
The number of casinos grew. Each new casino opened farther upriver (and closer to Memphis).
The first really large casino opened in May, 1994. The Sam's Town property contained a large two-story casino, meeting rooms, a convention center as well as a large hotel and an RV park. It was also the first casino in the Tunica area to offer covered parking. Parking in the shade is a welcome option in the hot delta sun. Here is a picture of part of the property.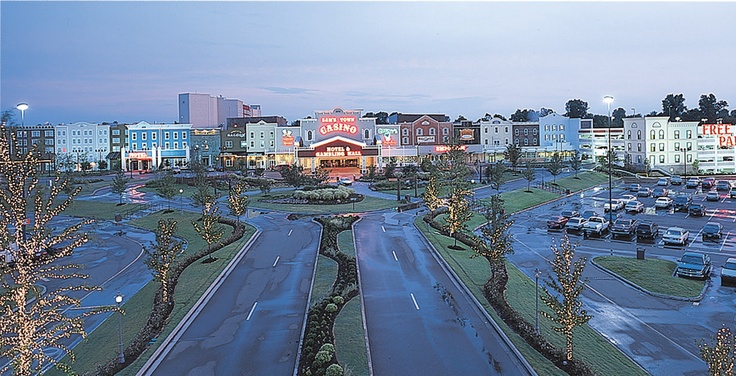 New casinos continued to open along with a casino or two folding until, by the end of 1996, there were 10 casinos operating in the Tunica area making it the third largest gaming destination in the country behind Las Vegas and Atlantic City.
The last casino to open during this period was Grand Casino Tunica. Located at the northernmost edge of Tunica County (and closest to the Memphis gambling market) it was also the largest by far of any casino in Tunica, boasting three large separate casino areas.
Take a look at the complex.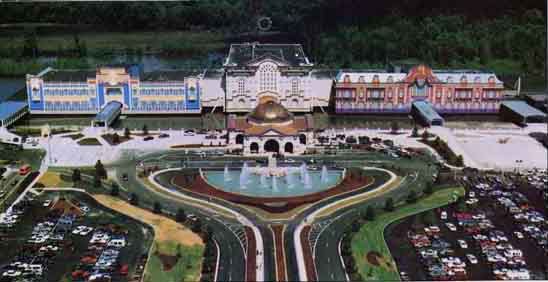 During this entire time, from 1992 until October 1996, the Tunica casinos were serviced by a two-lane highway. This caused lines of stopped traffic that were miles long and filled with irate drivers eager to risk their hard earned cash at the games offered by the 10 operating casinos in the Tunica area.
Once the four-lane highway opened near the end of 1996, traffic problems were virtually eliminated and, at last, the casinos could see how much opportunity there might be in the area.
Okay, it is now 1997. Ten casinos were open and operating in the Tunica area. Most of them seemed to be doing well for themselves. And, for the players, games were generally good, and comps were generally quite easy to obtain. In fact, Tunica during those years had arguably the best games and comps of the big three (Las Vegas, Atlantic City and Tunica).
The standard rules for blackjack tended to be the same everywhere in Tunica. They were: dealers hit a soft 17 (H17), doubling on any initial two cards allowed (DOA), splitting was allowed up to three times making four hands, splitting aces was allowed once with one card drawn for each ace, double after splitting was allowed (DAS) except on single-deck games, and finally surrender was not allowed. There were definitely differences in how deep into the shoe the cards were dealt, but the basic rules were almost always the same.
As far as other games were concerned, virtually every craps game offered 20-times odds. This was phenomenal. Players were also allowed to "buy" the 4, 5, 9, and 10 at favorable dollar amounts and the "vig" was only collected if the bet won. Most Las Vegas casinos only allowed buying the 4 or 10 with some of the Strip casinos collecting the vig immediately, thereby doubling the house edge on the bet.
All of the standard Las Vegas and Atlantic City slot games seemed to also be available in almost all of the Tunica casinos. These included the "banking" slot machines that an observant player would actually have an edge while playing.
Most of the Tunica casinos had decent video poker play schedules in at least some part of their gaming floors. Notably absent from this group was Horseshoe casino, which was a table players paradise. Go figure. I guess you cannot be all things to all players.
While some of the smaller casinos did not have a high stakes room or area, many of the larger casinos did, making the feel of these casinos very much like their Las Vegas and Atlantic City counterparts.
The next decade or so (through 2005) saw generally prosperous and player-friendly times in Tunica. The list of open casinos in Tunica changed only slightly.
In July of 1999, the Isle of Capri casino opened just up river from Sam's Town. This was a smaller casino with very friendly dealers and decent comps. The blackjack rules were the same as elsewhere in Tunica. This was also true of their other table games. Good video poker pay schedule could also be found here.
Total Tunica Casinos - 11.
Here is a list in chronological order of some of the major changes in Tunica during these several years of good times.
1997
Grand Casino announced plans for their $18 million Cottonwoods golf course to be designed by Hale Irwin.
Needing to recoup some of their expenses for upgrading infrastructure, the Town of Tunica increased the gaming tax from 3 percent to 8 percent. Later in the year they reduced the property tax by 25 percent making the locals very happy.
The Convention Center at the Grand Casino opened its 48,000 square foot facility.
In August, Gold Strike opened its 31 story hotel and entertainment facility. It was the tallest building in Mississippi.
In December, Sheraton Casino opened a 140 room all-suite hotel.
1998
Horseshoe Casino opened the Blues and Legends Hall of Fame.
Grand Casino opened the Willow Sporting Clay Shooting Range.
Riverbend Links opened a 6,900 yard world class golf course at Casino Strip.
1999
March - Grand Casino opened the $72 million, 600-room Terrace Hotel.
As stated above, in July the Isle of Capri Casino opened just upriver of Sam's Town.
Up to this point, the Tunica area had very little to occupy those who did not gamble. This changed a bit when in November, the Casino Factory Shoppes opened with several retail stores near the casinos.
2000
The Horseshoe Casino began a $40 million expansion.
Phase II of the Casino Factory Shoppes opened with an additional 60,000 square feet of retail space.
2001
Tunica thought big time. Tunica County broke ground on a $40 million airport expansion which included a 5,500 foot runway by the end of 2003 and a 7,000 runway by the end of the first quarter of 2004.
Casino Shuttle, a shuttle service to and from the casinos began in April. This was a joint effort between the Tunica County Casino industry, the Tunica Convention and Visitor Bureau, and Premier Transportation of Memphis.
To help satisfy the interest in activities other than gambling in the area, Tunica broke ground on a $22 million, 168 acre eco-park, museum and interpretive center called Tunica RiverPark.
2002
The Tunica County Museum opened in June.
Perhaps there was a slight overbuilding of casinos (or maybe it was management) as the Isle of Capri Casino is sold to Sam's Town and became Sam's Town East. I am not sure if the building was actually ever used, but it still stands (unused) today.
Total Tunica Casinos - 10.
2003
The Tunica Queen arrived to dock at the Tunica RiverPark in June, the same month that the 5,500 foot runway opened at the Tunica Airport.
2004
More signs of growth and prosperity. In March the Tunica RiverPark celebrated their grand opening. In May the Tunica National Golf and Tennis held their grand opening. And, finally, the 7,000 foot runway was completed at Tunica Airport.
The only potentially ominous event to transpire in 2004 was the sale of Horseshoe Casino to Harrah's. At the time, Horseshoe was hands down the best place for table game players. Great rules, friendly crews, easy comps and just a really comfortable atmosphere were things that were just not available to that degree elsewhere in Tunica. As many of you readers know, Harrah's had (and has) a reputation for not being very player friendly with their policies. I spent a lot of time playing table games at the Horseshoe during this time. The dealers told us that they were told things would not change. I must say me, and most of my group, doubted that very much. I am happy to say that for the first several months that this article covers, things did not change all that much. We continued to play with the same rules, no heat, relatively the same comps, and very friendly dealers.
2005
In January the Tunica Airport announced that they had all-weather capability.
The Tunica Air Races were held for the first time.
There you have it for the years 1997 through 2005. These were great times for the casinos and for the players. Tunica had established itself as a world class gambling destination and had added many infrastructure and visitor attractions. That combined with skilled and friendly crews, great rules, great comps and great atmosphere made it what I and many, many others considered the best place to gamble.
The largest casino in the area, Grand Casino now boasted a huge three -section casino, several restaurants and bars, a buffet, three hotels with a shuttle running between them and the casino, a golf course, shooting range, convention center, and even a Kid's Quest where parents could dump the kids while they tried their luck in the casino.
Things were indeed going well.
The next article will cover the years from 2005 to the flood of 2011. As you might surmise, with things being so great, Tunica had only one way to go. So, until next time;
All the best in your casino and life endeavors.
Jerry "Stickman"
©2015, DeepNet Technologies. No material to be copied without express permission of DeepNet Technologies.
This site developed by DeepNet Technologies, Ontario, Canada. Contact webmaster @ bjinsider . com if you have problems.
This site is best viewed in a 800x600 graphics mode, or higher.