(web ads above removed with paid membership. Click here for advertisement rates)




HOLE-CARDING BLACKJACK SHOE GAMES

by Eliot Jacobson, Ph.D.

Eliot Jacobson, Ph.D. is the author of the new book "Advanced Advantage Plays" (

www.advancedadvantageplays.com) and "The Blackjack Zone." He also hosts www.apheat.net, which contains the latest information on beatable games, side bets, and promotions. This article is reprinted by permission from Dr. Jacobson. (Note: It was written for casino personal as a warning against skilled hole-card blackjack players that exploit the weaknesses described in this article.)

Few who work in table games management, and even fewer Advantage Players (i.e., APs) know that blackjack shoe games offer hole-carding opportunities. How could this even be possible? Yet, advanced APs know that shoe games have been one of the most reliable sources for hole-carding opportunities over the last 20 years. Hole-carding opportunities do not exist by themselves, ready to be discovered by the astute scout. Rather, in shoe games hole-card opportunities are created by APs. To make these opportunities occur, APs understand subtle principles of blackjack layouts and know how to identify key flaws. Poor layout design together with a lack of awareness allows APs to force dealers to expose their hole-card. In the right circumstances, even skilled dealers can become vulnerable targets.

There are two basic designs for blackjack layouts: pitch layouts and shoe layouts. In a pitch layout, there is more room between the betting circles and the lip of the layout on the player's side. This design gives landing room when the dealer tosses the card towards the players. The action is behind the betting circles. That's where players receive their cards, make hand motions for additional cards, and where players tuck their cards after completing their action. The following pictures illustrate correctly designed pitch layouts: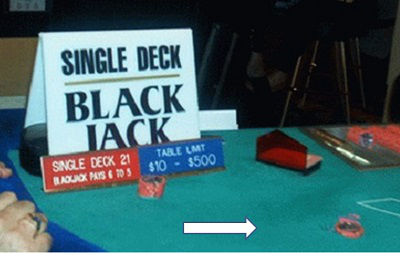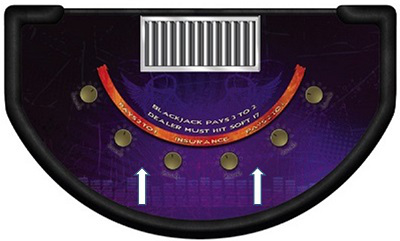 Conversely, the layout design for a shoe game is designed so that there is plenty of room in front of the betting circles. This is the territory where the dealer will place the player's cards, face up. There must be enough room for splits, double downs, and hits. There must be plenty of room left over for the dealer's cards. The following pictures illustrate correctly designed layouts for shoe games: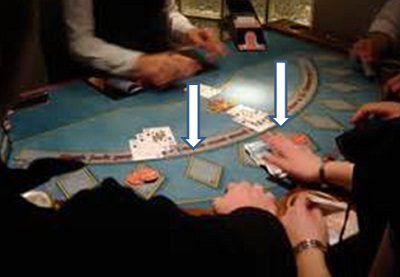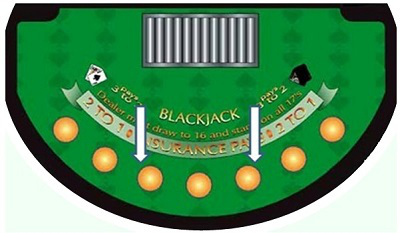 Hole-carding opportunities arise in shoe games when...
...enter your member login information below to read this article/newsletter...
Paid Members-Only Article
You have clicked on a link to a Blackjack Insider web page or article for paid subscribers. You must have a paid membership to the Blackjack Insider newsletter to view this content. About 1/2 of the articles in each issue of the Blackjack Insider are for paid members only, while the rest are viewable by everyone. Your purchased membership will allow you to read all Blackjack Insider articles for 12 months.
Enter your user name and password below (they were listed and e-mailed to you after you purchased your Blackjack Insider membership):
Forgot your membership id or password? Click here.
How do I get a membership?
A membership can be purchased online at our secure store with your credit card for only $19.95 per year. You will receive a user name and password immediately by e-mail which you can use to read the all past and future members-only articles for 12 months, as well as the regular free articles.
Do I have to buy a membership?
No. Blackjack Insider will continue to be published as a free monthly e-newsletter. But about 1/2 of the articles each month will be for paid members only. Subscribers without a membership can still view and read the non-members articles for free.
What happens after I buy a membership?
Immediately after you complete your purchase, you will receive a unique login user name and password. These are displayed on the final purchase page, and are e-mailed to you. When you click on a members-only article in our web site, you will be prompted for this user name and password (as shown above). Simply enter them, and enjoy the article! Note: make sure you turn on the checkbox above when you login, to save the user name and password so that you don't have to re-enter them every time you view members-only articles.
Why did you switch to paid memberships?
Blackjack Insider is a professional monthly publication with top-notch articles by world-reknown gaming experts. In addition, we have regular reporters that monitor game conditions and tournament schedules throughout North America. We use a partially paid subscriber model to enable us to continue getting the best content for our readers from leading authors on blackjack and gaming.
©2015, DeepNet Technologies. No material to be copied without express permission of DeepNet Technologies.
This site developed by DeepNet Technologies, Ontario, Canada. Contact webmaster @ bjinsider . com if you have problems.
This site is best viewed in a 800x600 graphics mode, or higher.