(web ads above removed with paid membership. Click here for advertisement rates)
THE ALL-NEW BLACKJACKTOURNAMENTS.COM SITE
by Kenneth R Smith
Tournament expert Ken Smith has appeared on all four seasons of GSN's World Series of Blackjack, and had several appearances on the Ultimate Blackjack Tour on CBS. He is the author of the e-book.
How to Win More Blackjack Tournaments: Tips, Tricks, and Strategies to Supercharge Your Game
(vol. 1 and 2). Ken hosts the popular website
www.BlackjackInfo.com
as well as the online tournament community at
www.BlackjackTournaments.com
. You can subscribe to his free email newsletter at
http://www.blackjackinfo.com/news/
.
BJT Celebrates a Birthday
November marks an important milestone for the BlackjackTournaments.com community. It was ten years ago in November 2003 when I launched the site. In the site's first post, I said,
"The avid casino tournament community has long needed a place like this, where we can gather to discuss our favorite pastime. I hope this message board and the accompanying site will grow to fill that need."
And it did. The site thrived, and the timing of the launch was perfect as the available tournaments grew as well over the next few years. In late 2004, an Event Calendar was added to the site, allowing members to help maintain an accurate listing of blackjack tournaments around the country. In the years since, members have listed thousands of competitive blackjack events on the schedule. From small weekly events, to the largest events the game has ever seen (such as the Las Vegas Hilton's Million Dollar Blackjack tournaments), the site has provided the tournament community a place to discuss, promote, and strategize about all these events.
Tournaments on the Rise? Maybe.
There have been challenges along the way. After a peak in popularity in 2006, tournament events began to decline, and with fewer events came fewer participants at BJT. However, I now believe that the future of table games tournaments is bright again. Blackjack and other table games have expanded around the country in ways we could not have imagined back in the early 2000s. The added competition has casinos searching for ways to differentiate their offerings. A weekly table game tournament is an easy addition that can draw in players on weeknights when the casino is otherwise slow. Moreover, with more small events come larger events. I am currently seeing an increase in the number of tournaments around the country, and I hope that continues.
With that in mind, the time was right to reinvent BJT as a platform that can serve the members for the next ten years. The most dramatic changes came online in late September, and there are still more features in the works.
New Forum Software
The most visible change is the new site design. The new message board software is more feature-rich and user-friendly. Frankly, the new version just more fun to interact with.
All visitors to the site now have full access to the free Event Calendar, even without creating a user account. Certainly we hope that you'll sign up for a free account as well, and there are many benefits to doing so, but if you just want to drop by and make a quick check for tournaments in your area without an account, that's fine too.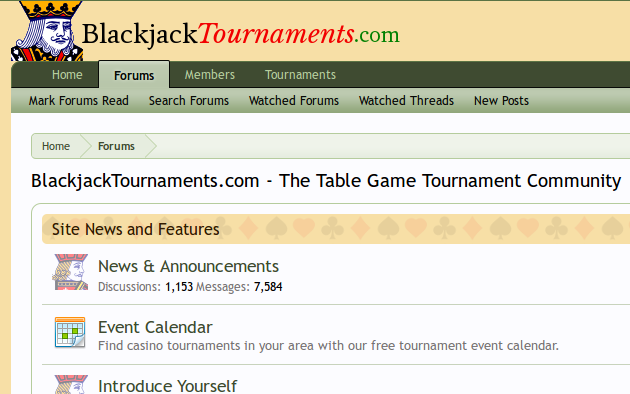 Mobile-Friendly
The site is now optimized for your mobile devices. A responsive layout adapts the display to the size of your device's screen. Check it out on your Smartphone or tablet.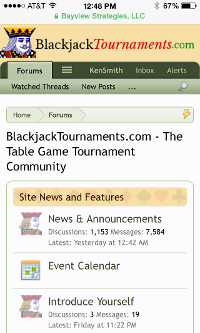 New Tournament Types
One popular request from the users has been the ability to list events other than blackjack. Many blackjack tournament players also enjoy competing in other table game tournaments, so other event types are now available on the calendar. You can search for 3-card poker tournaments, baccarat tournaments, dice tournaments, and roulette tournaments. The message boards have new discussion forums offering an area to discuss strategies and events for each of these games.
Here's a preview of the Event Calendar showing a few major upcoming events: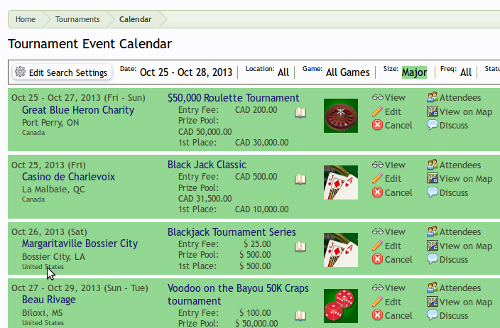 Searchable (and Mapable) Casino List
The Casino List has always been one of the most valuable assets of the site for my own use. For example, here's a neat new addition... You can use the search feature to limit the casino list to a particular area, and then map your results. For example, if you wanted a map of all the casinos in Pennsylvania, visit the casino list, type in PA for the state, and click Search. After that, at the top of the list is a button to "Map all 12 Casinos". The same idea works for any search criteria. Although the list is still primarily composed of US and Canadian casinos, a new "Add a Casino" feature allows the addition of casinos and tournaments anywhere in the world.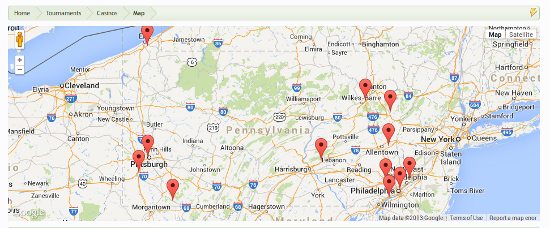 Social Features
Tournaments are a very social activity, and there are so many friends that I look forward to seeing at tournaments. The most social feature of BJT is the Attendee feature, and I expect it to become among the most popular. You can easily see who is planning to attend a tournament, and of course easily add your username to the attendee list.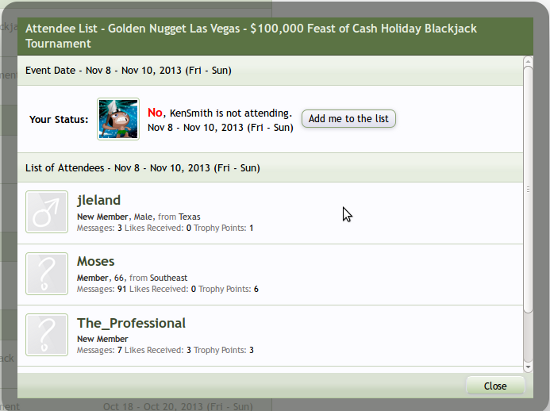 Another social feature is a much-improved Private Conversation feature, which allows a group of friends to have a shared conversation away from the public message boards.
The forum software has so many new features I can't possibly mention them all. The "Like" feature gives you a one-click way to thank a user for a useful or entertaining post. As a member, you'll immediately see an alert when anyone likes one of your posts, or replies to you in a message thread. The "Alerts" system is one of the features that make this software so much fun to use. The subtle usability improvements are also a big fun factor. Clicking on a thread takes you to the first unread message of that thread, instead of dumping you at the top to figure out where you were in the discussion.
Want to make sure a particular user sees your comment in a thread? Mention that user with a @ sign in front Twitter-style and that user will get an alert about the thread. Quick and easy.
Speaking of Twitter, another enhancement is coming soon that will allow you to receive notification of any new threads via the @BJTournaments Twitter account.
Come Join Us, It's Free
On the occasion of our tenth birthday, I am excited about the next ten years at BlackjackTournaments.com. Please come join us and participate. Sign up for a free user account and join the discussions.
https://www.blackjacktournaments.com/
If you need help in signing up and posting your first message, here's a link that goes through the process step by step:
https://www.blackjacktournaments.com/threads/how-to-post-a-message.8288/
The more players that join and participate, the better the site works for all of us. So drop by and check out the new version. Look up some events that you plan to attend, and add your name to the Attendee list. Perhaps most importantly, get out there and support your local tournaments. I hope to see you at BJT soon, and even better, maybe at a final table in a casino somewhere!
©2015, DeepNet Technologies. No material to be copied without express permission of DeepNet Technologies.
This site developed by DeepNet Technologies, Ontario, Canada. Contact webmaster @ bjinsider . com if you have problems.
This site is best viewed in a 800x600 graphics mode, or higher.