(web ads above removed with paid membership. Click here for advertisement rates)
ULTIMATE STRATEGY CARDS FOR CARD COUNTERS: THE STEALTH VERSION
by Kenneth R Smith
Tournament expert Ken Smith has appeared on all four seasons of GSN's World Series of Blackjack, and had several appearances on the Ultimate Blackjack Tour on CBS. He is the author of the e-book
How to Win More Blackjack Tournaments: Tips, Tricks, and Strategies to Supercharge Your Game
and,
How to Win EVEN MORE Blackjack Tournaments-Volume
2. Ken hosts the popular website
www.BlackjackInfo.com
as well as the online tournament community at
www.BlackjackTournaments.com
. You can subscribe to his free email newsletter at
http://www.blackjackinfo.com/news/
.
Last month I introduced you to the new Advanced Blackjack Strategy Card set from BlackjackInfo. These cards combine perfect basic strategy charts with optimized index numbers for the Hi-Lo card counting system. The set includes cards for each of six popular rule variations for blackjack, along with the highest quality indexes for each game.
If you want an explanation of index numbers and how they are used, please refer to last month's article "Ultimate Strategy Cards for Card Counters."
In that article, I mentioned that there were actually twelve pocket-sized cards in each set, instead of the six that you might expect. This month I will explain why.
While it is empowering to have the exact index numbers available with you right at the table, you might justifiably be concerned about using these strategy cards in the casino, where a nosy pit person might get interested in the small numbers in the corner of each square. Even though each card is titled simply "Blackjack Basic Strategy Chart," a close examination might lead to questions that you would prefer not to be asked. That's why the set also includes a "stealth" version of each card which encodes the index information in a far less obvious fashion. Compare the two approaches:
The normal numeric version of the index numbers

The "stealth" version of the index numbers, encoded with black dots

In the encoded version, each index number is represented by a small black dot in the square according to a clock-face pattern around the edges. Here is a key that shows what I mean: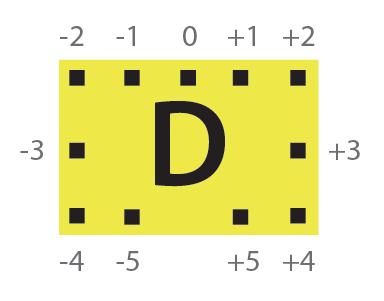 For example, the index for 9 vs 2 is +1, which is indicated on the stealth card with a small black dot at the top of the square, slightly offset to the right.
Now, these subtle dots could also provoke questions about their purpose, but they are far less obvious than the numeric indexes when you examine the cards casually. The best answer to questions about their purpose is likely the ever-popular "I don't know!", or you can say it must be a printing artifact.
While the main reason for concealing the indexes was to make it more reasonable to use them at the table, the encoding actually serves well for another function. You might find that it is easier to memorize the indexes visually, particularly in certain sections of the strategy. Remembering the patterns of dots in a section of the card can be easier in some cases than remembering the values directly. Different people learn in different ways, so you may want to try both.
In any event, you won't find a better set of optimized indexes for your Hi-Lo card counting available anywhere. These cards were laboriously constructed to very high standards.
If you want to see the full details and instructions for the cards, you can visit http://www.blackjackinfo.com/card/advanced-strategy-cards.php
Editor's Note: The Advanced Basic Strategy Cards are a great product and we've added it to our BJI online store. You can purchase the strategy cards at a discounted price by clicking here.
©2015, DeepNet Technologies. No material to be copied without express permission of DeepNet Technologies.
This site developed by DeepNet Technologies, Ontario, Canada. Contact webmaster @ bjinsider . com if you have problems.
This site is best viewed in a 800x600 graphics mode, or higher.