(web ads above removed with paid membership. Click here for advertisement rates)
A NEW YEAR, A NEW EBOOK
By Kenneth R. Smith
Tournament expert Ken Smith has appeared on all four seasons of GSN's World Series of Blackjack, and had several appearances on the Ultimate Blackjack Tour on CBS. He is the author of the e-book
How to Win More Blackjack Tournaments: Tips, Tricks, and Strategies to Supercharge Your Game
and his latest book, How to Win EVEN MORE Blackjack Tournaments-Volume. Ken hosts the popular website
www.BlackjackInfo.com
as well as the online tournament community at
www.BlackjackTournaments.com
. You can subscribe to his free email newsletter at
http://www.blackjackinfo.com/news/
. Ken also released his new pocket blackjack strategy cards, which are available in our BJI store.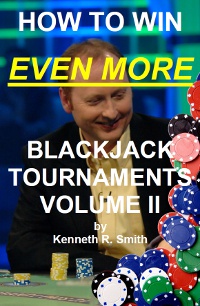 As we welcome a new year, I'm very proud to also welcome the release of my second ebook, How to Win EVEN MORE Blackjack Tournaments-Volume 2. It's been a long four years since the release of my initial work, so it's about time!
This new ebook is packed with the kind of in-depth tournament discussion that you have come to expect from me. The book is available in PDF format, for immediate download upon purchase from the BJInsider store. Within its 26 chapters of discussion of tournament play, I guarantee you'll find something to improve your game, whether you are new to the world of blackjack tournaments or an experienced pro.
In producing this volume, I culled through the years of articles I have written for the Blackjack Insider newsletter, choosing only the best, and re-editing them for clarity and accuracy. In addition, there are three excellent additional articles that have never appeared in the BJI newsletter.
The new ebook stands alone and there is little overlap between it and my previous e book (How to Win More Blackjack Tournaments). If you have not yet read that book, you should take advantage of the special package deal offered at BJInsider.com for both books at a price of just $24.95. (The retail price of each book is $14.95.)
If you are relatively new to tournament strategy, I think "Chapter 3 ¨Hand by Hand Betting" is worth the purchase price all by itself. For the more technically inclined, there are discussions that cover more playing decisions than I have ever seen in print, in the chapters about the "Mythical Twelve Percent".
Other highlights include:
How to play against unskilled players
How to use multiple hand "ladders" to gain an extra edge
How to think outside the basic strategy box and maximize your tournament chances
How to play in "accumulation" style events
How to handle the challenge of chip counting
The chapter that covers the accumulation-format blackjack tournaments will alone more than pay for the cost of this book, in the very first accumulation event you play.
Please join me again, in the wild and wonderful world of competitive blackjack.
Purchase How to Win EVEN MORE Blackjack Tournaments- Volume 2 at
www.bjinsider.com/BuyHowToWin2.
Purchase the original How to Win More Blackjack Tournaments by clicking here.
Get a special deal on BOTH ebooks, Volume I and Volume II for just $24.95, by clicking here.
Still not convinced? Read a sample chapter and view the Table of Contents from How To Win EVEN MORE Blackjack Tournaments - Volume II.
Editor's note: The new e-book includes three new articles not previously published in BJI. And, all of Ken's included BJI articles are now available exclusively in this e-book.
©2015, DeepNet Technologies. No material to be copied without express permission of DeepNet Technologies.
This site developed by DeepNet Technologies, Ontario, Canada. Contact webmaster @ bjinsider . com if you have problems.
This site is best viewed in a 800x600 graphics mode, or higher.