(web ads above removed with paid membership. Click here for advertisement rates)




ATLANTIC CITY BLACKJACK REPORT─ April 2009

by Frank and Alene Scoblete

Alene Scoblete is the CEO of Paone Press, which sells gaming books and tapes at discount prices. She also writes for www.scoblete.com. Her husband, Frank Scoblete, is the #1 best-selling gaming author in America. Frank's books and tapes have sold over a million copies. His newest book is

The Golden Touch Blackjack Revolution. His newest DVD is Golden Touch: Beat Craps Using a Controlled Throw! For a free brochure call: 1-800-944-0406 or write: Frank Scoblete Enterprises, Box 446, Malverne, NY 11565. Frank's websites are www.goldentouchblackjack.com, www.goldentouchcraps.com and www.scoblete.com.

**************

Something

BIG is Coming to Las Vegas in 2009 – Frank Scoblete's World Casino Championships! Meet players from all over the country in a fun weekend of tournaments and special events. Go here for more information: http://www.goldentouchcraps.com/wcc_2009.shtml
---
NEW! Dominator's Golden Touch™ Sports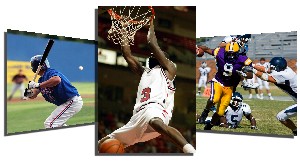 Dominator has been beating the Vegas sports books for over 20 years now, and for the first time ever he is sharing his predictions with our Golden Touch customers through our new Golden Touch™ Sports Pick Subscription Service.
Five day trial subscription... only $9.95!
Click here for all the details
or click here to purchase the 5 day trial subscription
which includes every sports prediction we offer
(valid once per customer only).
---
Baseball season is coming soon! And of course, Dominator's Golden Touch Sports is going to be there with our great predictions and offerings. In 2008, Dominator had an undefeated "Lock" picks record in baseball (38-0 for 2008). Dom's Lock Picks for the latest 2008-2009 season were also perfect (73-0)!
We have have a special early-bird offer only for BJI newsletter subscribers for the VIP/Whole Enchilada Baseball Season Pass:
Normally $899 once the season starts...
only $799 until April 8th for BJI newsletter readers!
To get in on this special offer, you just have to click the link below:
Click here for this special offer
Like the Basketball VIP Season pass, this includes every bet that Dom, Frank and Bill make. It includes bonus predictions only available to VIP subscribers. You get predictions for:
Every regular season MLB game.
Every playoff and World Series game.
A full season of our baseball 'Lock Picks'.
Special VIP-exclusive picks.
Covers the complete baseball season, from April to October.
Don't miss out! The price will be going up April 8th. Click here to purchase the full MLB baseball season VIP/Whole Enchilada pass for $100 off.
---
Oh, the Players Are Pissed Off in AC!

There are two ways to handle a bad economy. If we owned a restaurant, we would offer two-for-one nights; free two-drinks nights; bring your family and the kids eat for free lunches. Something like that. Or, if you are a ploppy, you could raise your prices through the roof to get more money from fewer people.

Atlantic City seems to have embraced the ploppy modus stupid-rendi according to a massive number of letters we have received these past three months. Here's a sampling of some of them:

"Oh, yeah, oh, yeah more and more hitting on soft 17s and more eight-deck games where there used to be six-deckers. Fewer and fewer tables open. The worst blackjack games always have tables available. The AC that exists now is like a rotten egg."…Louie B.

"Not only do the blackjack games mostly stink, but my comps were pulled way back. I am a $25 player and I had to almost beg to get a buffet for two at one casino after two hours of play. What the hell is wrong with these people?" …David Freeman

"Comps? Don't make me laugh! AC is a graveyard and they not only have fewer tables opened during the day but the two casinos I like to play in have cut their comps way back! I can get a free room during the week but ask for a food comp and it's like asking if you can rape their daughter. It stinks!!!" …Miriam C.

"Okay I think that Atlantic City has made the wrong choices in most of the things they are doing. A whole lot of places are about to go belly up and the town while not empty is missing a lot of that old pizzazz. They are getting very tight with the comps and I have noticed a big decline in the people who play the slot machines. You can't lure in players by making them feel you are going to take what they have and give them nothing. The casino bosses are all like AIG people – idiots!" …Paul Martin

"Screw Atlantic City. I play or used to play blackjack there twice to three times a week. I am a Golden Touch player and what I have now seen is a paranoia that is so great these pit bosses need psychological therapy. They are nuts. Maybe I'll go to Vegas more often because I heard they are giving the players more." …K. Thomas

"Can I name casinos? The Trump Plaza sucks. It's a slum in that casino. Wear a hazard suit. Resorts is as dark as a dungeon although the restaurants are pretty good. Showboat? Does that place have any table games any more? Hilton is a wake. Tropicana is trying but the ownership must be composed of chimpanzees. They screwed that place up royally over the years. Caesars is okay. Bally's is going downhill faster than a sled rider. Claridge blows chunks. Taj is nice. Wild-Wild West is deserted. Borgata is a good place. Harrah's in the marina is okay but not great. Trump Marina is drowning in debt. That's Atlantic City. It is a dying town if you ask me. They should start to wake up and bring in some good games and high paying slots to bring back the people." …Rita Townsend

"Who cares about the AC casinos? I am taking up stamp collecting." …A.R.

"The other day there were more bums on the Boardwalk than people in the casinos. At least it seemed that way. How can AC reduce their comps when they are hurting for customers? If you can't get the players in you can't make any money from those players, can you? I think the Three Stooges must be in charge. Wait a minute, I take that back. The Three Stooges would do a better job." … Lawrence Baron

________________________________________________________________

Our Readers Report

If you wish to contribute your reports or observations, we need to receive them by the 24th of the month for the next month. Write to: fscobe@optonline.net

We have many readers who send us their reports on various aspects of Atlantic City and we do have some that give us reports just about every month – so we have decided to give them the fame and glory (as opposed to "fortune and glory") of their own columns.

You will note that our correspondents tend to have somewhat different views. Always it is up to you to decide which games you want to play by scouting them for yourselves.

The Jon Report

(Jon gives us great reports almost every month when he visits AC. You can use his reports, mix them with ours, put a dash of the other letters and you will get a good idea of what is going on in Atlantic City.)

Dear Frank and Alene:

Well, AC's troubles continue to deepen. A 19.2% drop in business in February! Hey, but let's look at the bright side. Harrah's is reporting that they're saddled in debt now too and might need to sell some properties in order to stay out of bankruptcy. I can name four properties that I'd like to see them sell!

It would do AC a world of good to see some casinos sold. I know business is down but the casinos aren't really losing money. They're just so laden with debt that they can't keep up with the payments. Let someone own them that isn't a slave to their debt and we'll be in better shape.

Well, the games have slipped a little this month. The 8-deck games continue to spread throughout the Borgata. The 6-deckers are limited to the tables in the center of the casino now. The 4-deckers seem to be going away at the Trop too. Often they are not even open now. I also hear they are offering 8-decks games again at the Trop but I haven't seen that myself yet. I have been noticing more $5 games around town.

I visited the following casinos this month. All reviews are of games on the main floor and not the high-roller rooms. I'm not even going to mention the greedy places offering single deck 6-to-5 BJ games. Do yourself and the rest of us a favor. Don't patronize these games!

Borgata: Six and eight decks, 70 – 75% penetration, S17. Offering a $5 game and almost always crowded.

Trump Marina: Eight decks. 75% penetration. H17. $5 games available. Plenty of open seats.

Showboat: Eight decks. 75% penetration. H17. $5 games available.

Trump Taj: Eight decks, 75% penetration; S17and no mid shoe entry on eight-deckers outside high roller room, H17 on the rest of the floor. Only open tables as needed.

Resorts: Two six-deckers on the main floor. The rest are eight decks. The row of tables outside the high-roller room stand on soft 17. The rest of the place hits soft 17. About 75% penetration. Seats available.

Claridge: Eight decks. 75% penetration. $10 games always available. H17.

Ballys: Eight decks. 70 – 80% penetration. Penetration used to be better than average here but has dropped some. H17. Another place without many open seats.

Wild Wild West: 70 – 80% penetration. H17. Many lower limit games here.

Caesars: 70 – 80% penetration. H17 on most of main floor. S17 on $25 and $50 tables outside high roller room.

Trump Plaza: Six and eight-deck games. The six-deck $25 games are the most abundant. The penetration on the six-deckers is in the 67 – 75 percent range. About 75% penetration, S17 on the eight deckers.

Tropicana: The 4-deck games seem to be going away. The 6-deck games are still being offered, but 8-deck games are being offered again too. Penetration ranges from 60 to 80 percent. They are offering $5 tables sometimes. S17. This place generally opens tables only on an as needed basis, so never a lot of open seats.

Hilton: All eight-deck games on the main floor hit soft 17. However a few six-deck games stand on soft 17. Penetration 70 – 80%. Still some of the best penetration in AC but not as deep as it used to be. Seats are available.

Well, hope this helps.

Jon


THE HOWARD HERBERT REPORT

(Howard is a regular Atlantic City visitor who frequents Borgata although he does move around a lot. He plays both blackjack and craps, occasionally adding other games such as Pai Gow Poker. He will make trips to Las Vegas and Connecticut too.)

PLACES NOT TO GO

A few weeks ago my wife and I decided to try the new casino at Foxwoods, the MGM Grand. We made reservations for two suites as we went with some friends. So far no problem. Then the fun began. We only got into one of the rooms (which were ok with a bedroom, a living room with TV and desk, and large bathroom with shower and tub) but they assured us we had the room across the hall. Yeah!

Anyway, they gave the room across from our room away, so we ended up with another room a few floors up. Meanwhile, we decided that we wanted to eat. What no buffet? Nope, no buffet. The gourmet restaurants looked pricey so we settled for Junior's casual dining. Well, if you are from NYC trekking up to Connecticut to go to a local restaurant ... that is not exactly what we wanted, and we had to wait in line every time we ate there. By the way there is only a crummy breakfast counter type of thing so one ends up eating at Junior's a lot. L !

The casino is small and dark. There are only a few tables so seating may be hard to get. The dice tables were super bouncy, sort of like Borgata's, perhaps even worse. The playing area is surrounded by a barrier which makes it hard to maneuver across the floor (from one's room to the cashier for example), and I would hate to think what might happen if an emergency took place. BJ again had only a few tables (very hard to get the seat you want) with the same rules at Foxwoods. They had put in hitting soft 17 but they suspended it shortly thereafter.

The comp system seems quite strange and everything has to get run through one of the suits or suitresses at the front desk. Nor did they seem as liberal as Foxwoods.

Meantime, back at the room. Oh, oh not enough soap. And again no back up toilet paper, none. We did get these things straightened out after complaints and some waiting, but this is not what we came for. And if you think you can just drop over to the main casino, think again. It is a long walk or else a shuttle system; in other words, a major decision.

All in all, this casino resort gets a C rating at best. We will not be back.

The following is based on two trips to AC in the last two months. Things continue slowly, although I think that I detected a few more patrons on the most recent trip. On a quick walk around the Boardwalk casinos at 8:30-9AM there were the grand total of 7 people, 9 people, and 16 people playing at three of the casinos. This is all table games. Slots sparsely populated too.

It also seems that there are many more $5 and $10 tables available on weekdays particularly at the down scale casinos. You can even find these in the evenings and sometimes on weekends. Are casinos getting snootier? I have run into three people in my recent travels who were "discouraged" from playing at Borgata in one way or another. One had a problem because they wanted to sit at a dice table, for example. A couple of people reported, and I have noticed too, that there are more poorly dressed people in some casinos (Hilton for one, the Plaza as reported by someone else in this column earlier).

Is this the homeless, unemployed, foreclosure overflow? If so it will get much worse as the weather improves.

The little things continue to disappear also. At one breakfast buffet, no Bermuda onions with the lox, at another no lox at all, some casinos (I believe the Trump chain, e.g.) have taken away free bottled water and who wants to drink the lousy AC tap water? Bottled beer is out too in others. No attendants in the Men's rooms. Fewer maids mean a longer wait to get into your room, especially on Sat or Sun AM. Sometimes 4:30 or even later, if you arrive in the AM is means a long stretch without a home base to retire to. But check out still 10 AM or 11 AM.

Another observation is that the pits crews and dealers seem a bit down and at times hostile or aggressive. In some casinos, it almost seems as if a slow down is in effect, there is a lot of chit chat among the dealers about this and that rather than concentration on the game, same at tables between dealers and pit people. Tips also seem off in the up scale places.

Yours truly,

Howard

From Ben:

Hi Frank,

I just had another great trip to AC but am sorry to report some new unfavorable developments. Most of the games have stayed the same but the Borgata is going downhill in a hurry. It seems that they have finished converting all of the tables except for the ones in the center of the casino (usually $15-$25 minimums) to 8 decks. It's still S17 though but penetration is about 66%-70% for all of the tables.

I guess they're not afraid of losing their clientele since they continue to remain packed at the tables.

The Tropicana is by far the best place to play now with four-deck games and 75% penetration. I just hope they don't cease operations as they might just have the best game on the East Coast.

-Ben

From Mr. Drums:

First time back in years. They used to deal those horrible 8-deckers with three decks (or more) on average cut away. Unplayable, of course.

Last night there were two $10 six-deck tables. Both were crowded and both had extremely lousy penetration (68% - at least 2-1/2 decks cut away). Unplayable and I didn't sit down.

Couldn't find a 4-decker on the main floor, and a poker player told me that they discontinued the four-deck game last week. Can't verify this.

It's back to the Borgata where if you look hard enough and are patient, you can usually find a dealer cutting a deck and a quarter (79%) or even one deck (83%). Doesn't last long, though, because what the next dealer will do is totally unconnected and unpredictable.

Historically, I found that the Resorts 6-deckers are always routinely penetrated at 67%; that's why I never play at Resorts, even though I've played poker (on and off) for years with a Resorts BJ floorman, who(m) I'm very friendly with. He tells me to come on over and he'll make sure I get at least 75% penetration. I always felt that this somehow might get him into trouble, because all the A.C. casinos have my picture, so I never took him up on it.

If the Borgata doesn't pan out with the regularity I need, I'll try the Hilton. They used to have one good $10 six-decker with uniform excellent penetration (one deck to a deck-and-a-quarter); but when I play there, all the floor people come to the table and stare me down the whole time I'm there.

At first (many years ago) I thought it was my imagination, but I found out that it wasn't. I usually did well at the Hilton game, but the staring eventually got to me. I mean I couldn't even crack a joke or pass a pleasantry with any of the "starers" – they weren't going for it, though I tried many times. They never restricted my play in any way (like occasionally at the Borgata); I'll say that for them, but to tell you the truth, in my 30 years playing in A.C., I never remember ever being singled out (for heat) like at the Hilton, and it does get to me. That's why I don't go there.

I forgot to mention that I bought your very entertaining, insightful and helpful Best Blackjack back in '97, and I still refer to it today. Your writing is fast-paced, amusingly ironic and extremely witty (plus packed with a wealth of helpful tips for the novice to the advanced counter). Thanks again for all your great efforts and information.

Mr. Drums

From AC Rich:

Frank,

Have been invading Vegas lately. Stayed at the RIO (dead) and Caesars and did real well. Amazingly most high limit rooms in Vegas use six-deck like Atlantic City with the advantage of surrender. Caesars is really the only game in town that is busy. But not many people after 2 am....when I play.

Headed to Atlantic City again in a few weeks. Interesting item for you. I was busted as a counter at Trump Marina.....who promptly informed the TAJ.......who never informed the Plaza. They are begging for my action as I am signature level. How strange is that? The only others in AC who know my bag are Resorts and Hilton......who I am hoping will bite the dust as predicted.

AC Rich

* * * *

You can read about the Golden Touch Craps World records, including the Captain's 147-roll hand at

www.goldentouchcraps.com/worldrecords.shtml. Want to learn dice control from the masters? Get a copy of The Golden Touch Dice Control Revolution! [$16.95 plus $5 shipping] by Frank Scoblete and Dominator or get a copy of our new DVD Golden Touch: Beat Craps by Controlling the Dice! [$299 plus $6 shipping] Call FRED at 1-800-944-0406.

Frank's new book,

The Virgin Kiss and Other Adventures! is now available in the BJI store. Frank says, "This is the best book I have ever written!" Get one and see for yourself.

The greatest, and easiest, advantage-play method ever developed for beating blackjack – SPEED COUNT – can be found in Frank Scoblete's new book, Golden Touch Blackjack Revolution! Book comes with a CD so you can practice. $22.45 plus $5 for shipping....

click here to order.

And now: Golden Touch

Speed Count DVD is available!

* * * *

We've decided since many of our Golden Touch Craps dice controllers are now Speed Counters subscribing to this site; we are going to give a quick rundown of the craps games as well. We haven't played in all the casinos in AC so we would appreciate it if you could email Frank with the table minimums, the odds bets, and anything else you think we might want to use (table lengths very helpful – if you just say "big" we will assume 14-feet as they are at Borgata). If you send us info we will give you a free month on our members-only board that has over 5,000 paid members. Email address is fscobe@optonline.net.

All the ratings of casinos are based on the blackjack games.

***********************************************************************

If you're going to play blackjack, why not play with an advantage? The Golden Touch Blackjack class will give you the easiest method for getting an advantage at the game. You'll learn it in 10 minutes, practice for two days, and be able to go into the casino and have a verifiable edge! Learn Speed Count and the new optimum basic strategy in this class. Call 1-800-944-0406 to sign up or for more information.

Or buy our new book The Golden Touch Blackjack Revolution! and learn the easiest advantage-play method ever developed for blackjack.

************************************************************************

Here are our ratings for April 2009. We thank many of our readers for helping us to stay as updated as possible. There may be some disagreements in ratings among our correspondents but all these reports are based on individuals' experience. A word to the wise: it's always best to check out the casinos for yourselves.

Rating system:

***** = Excellent

**** = Very Good

*** = Good

** = Fair

* = Poor.

BALLY'S PARK PLACE: No change. Going downhill faster than a meteor. Night time is not the right time if you want to play at Wild Wild West – they now send you over to Bally's. This place is packed with fewer blackjack tables than in the past. A lot of carnival game players here. This used to be a premium property but it now seems to be a Harrah's after birth. No mid-shoe entry in high roller room and on a few of the main $50 tables in casino. Mixed reviews about how deep the penetration is but we found it in the 75 percent area. All 8-deck games except for the high roller room action. The hitting on soft 17 is now a fact all over the place. For craps players, this is a good casino for the game. All tables are now 5X odds, with a range of minimums. Crews are friendly. Tables are somewhat high so short shooters get your platform shoes. Some correspondents disagree with this statement but we are guessing they are all over 6-feet tall! There are many more carnival games than ever before. Looks like Three-Card Poker rivals blackjack! Hotel has declined a lot. One and one half stars: * ½ *

BORGATA: Still has a crowd, unlike most other AC properties. Heading down the tubes as well, although most reports still tend to be positive. Casino now has eight-deck games, so goodbye attempting to bring that Las Vegas veneer to AC. Penetration is around 70 to 75 percent on all games, including the six deckers which still make up most of the casino. Craps has long tables, 14-footers, and very bouncy, and not worth playing unless you like to see dice flying off the tables or gaze upon beautiful cocktail servers ducking out of the way. Go elsewhere for craps, except for Taj which has mimicked Borgata's craps tables. This is a happening place and caters to a swinging young crowd. Okay casino for Golden Touch Blackjack. Three stars: * * *

CAESARS: No change. Down, down, down the BJ games go. So many more tables hitting soft 17 now. That brings this casino down a big notch. Directly across from Caesars is The Pier, which is a pleasure to walk through – a must see attraction in AC with some of the finest restaurants and views [see our main article in this issue]. Caesars itself also has excellent restaurants but you have long walks to find them. Cheerful place and worthy of the name it bears. Hotel/casino rating is A. They are going deeper at blackjack too but that H17 detracts from this somewhat. You can expect about 75 percent penetration with most of the dealers. The main floor of eight-deckers has some of the upper-limit tables ($25 and $50) with no mid-shoe entry. All the games in the high roller pit are also no mid-shoe entry with $100 and higher minimums. Table game action has improved and that is very noticeable in the blackjack pits – which are all 8-deck games. Six-deck games in high roller room have 80 percent penetration, as do the eight-deckers on the main casino floor. The craps games here are good with 12-foot tables and friendly crews. The tables are high so smaller controlled shooters should wear their "special shoes." Two stars: * *

CLARIDGE: Bad reports from everyone who has played there. Remember when they advertised themselves as the "friendly casino"? One star: *

HARRAH'S: No change. Harrah's has ruined more good casinos in this country than hoof-and-mouth disease has ruined more things having "hoofs" and mouths. Hitting soft 17 now. Penetration now ranges somewhat below the 75 percent area. Resplitting allowed except aces. No midshoe entry in the high roller room of 6-deck action, with the rest of the casino being 8-decks. But we must warn you; this is a big slot place. Sadly, Harrah's properties in Las Vegas and in Tunica are getting awfully bad reports about how some of the boxmen treat customers who practice a careful shot at craps and there is overwhelming paranoia at the blackjack games as well. So beware when outside AC. Harrah's prefers slot customers and all their casinos tend month after month to be adding more machines. One and one-half stars: * ½ *

HILTON: No change. This place is about to walk into the ocean and drown itself. This could become the site of a new George Romero zombie movie as many of the zombies are already playing in this place. Wild swings in penetration on blackjack and many more eight-deck games. The hitting of soft 17 brings this place down a peg. Resplitting allowed except aces. High roller room is 6-decks; rest of the casino is 8-decks with a few $25/$50 6-deckers on occasion. No mid-shoe entry on the six-deckers. High table minimums, especially on weekends, a lot of $25 tables, rare $10 tables. Penetration about 75. Okay casino for Golden Touch Blackjack. For craps, we are dealing with 14-foot tables and a couple of 12 footers.

Three stars: * * *

RESORTS: No change. Might be going, going, gone before you know it. Getting a little better with blackjack though. But more tables are hitting soft 17. Not really worth playing. Two stars: * *

SHOWBOAT: No change. This used to be a great hotel-casino. Now it is a great hotel and forget the casino. Another Harrah's disaster. High roller room got some good reports but the rest of the casino is becoming one big slot machine. Harrah's has changed this into a slot joint. Where are the table games? Had been one of the best and now is one of the worst blackjack games in AC. Great rooms; good restaurants and that about sums it all up. One star: *

TROPICANA: Numero Uno in AC! That is, if it stays in business. Not hitting soft 17. Also is offering four-deck games. This is now the best place to play in Atlantic City. Penetration is around 75 percent, sometimes more depending on the dealers. Not enough tables open and sometimes the better games are the ones whose tables are closed. A good place to play Golden Touch Blackjack. Four stars: * * * *

TRUMP MARINA: Please do not sell this place to Jimmy Buffet. We have nothing against Buffet as a person or performer, but we don't want to see this place become the "balloon on the head" capital of the East Coast. Empty during mid-week. A nice casino that just can't seem to find itself. Rooms are clean; hotel is well kept. On blackjack they are hitting soft 17. Six-deck games in high roller room and eight-deck games on the main floor have penetration of 70-75 percent mark, but you won't find any dealers going much deeper. Games are mostly $15/$25 and up, especially on weekends. No mid-shoe entry on the six-deckers but you can jump in and out on the eight-deckers. Craps tables are 12-footers with 5X odds and with good crews. Two and one-half stars: * * ½ *

TRUMP PLAZA: If this place closes, where will all the low-life scum-sucking creeps go to hang out? Major disappointment in the center of the Boardwalk. Blackjack? Paranoid. Craps? Paranoid! Casino? Dark, unsavory. Restaurants? Mediocre. Just about all six-deck games with somewhat low penetration of 67 to 70 percent, depending on the dealer. No midshoe entry on games outside high-roller pit but you can find $25 (a few) to $50 minimums on these. Allows resplits, except aces. All tables are $10 and higher. Craps tables are 12-footers. A real big smattering of low-pants wearing steely-eyed low-lifes. Two stars: * *

TRUMP TAJ MAHAL: No change. We used to love this place. We actually still love the place. Great crews. Used to be the best casino for games in AC and now isn't even close. In fact, for blackjack and craps it has gone downhill to the bottom. Now they are hitting soft 17. First they screwed up the craps tables so the dice go flying off the table every third roll and now they have decided to give the blackjack games a wicked colonoscopy with barbed wire. Great hotel and great restaurants and great entertainment. Also, generally great dealers and pit personnel. Too bad it isn't the place to play any more. One star: *

WILD, WILD WEST: No change; no gold-rush either. The silver rush is over too. This place is over as well. Another Harrah's wipe out! All eight-deck games with H17 – insane. This is a part of Bally's Park Place and Harrah's is looking to sell this complex like a pan of fools gold. Penetration is about 75 percent on all games. For craps this is a fun place to play with one 5X odds table and one 2X odds table. I remember when this place had many more tables. Crews are very friendly. One star: *

THE BEST BLACKJACK IN ATLANTIC CITY: Tropicana

The Best Craps in Atlantic City: Resorts / Caesars

The Best Hotel/Casino in Atlantic City: Borgata / Taj Mahal

Get the edge at slots! Read Jerry "Stickman's" new book: Specific Slot Machines That Give the Players the Edge! Just $99 for the e-book.

©2015, DeepNet Technologies. No material to be copied without express permission of DeepNet Technologies.
This site developed by DeepNet Technologies, Ontario, Canada. Contact webmaster @ bjinsider . com if you have problems.
This site is best viewed in a 800x600 graphics mode, or higher.